Pro-Ject Audio announced the Juke Box E. Just add the loudspeakers!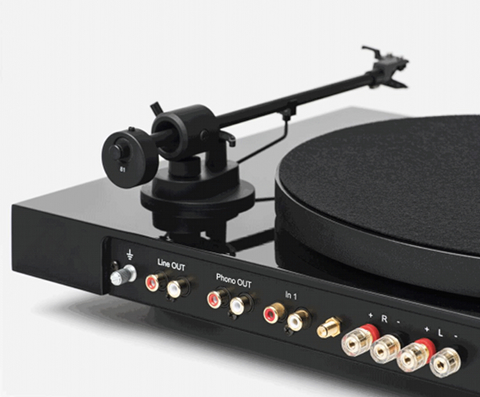 Source: Press Release, Last Accessed: 2017/12/11
With Juke Box E "active turntable", Pro-Ject attempts to show all vinyl enthusiasts and growing audiophiles, how easy and great a music experience from a modern record player can be. The device includes a built-in pre- and power-amplifier, which allows you to place the speakers far away from each other to minimize the possibility of acoustic feedback and to create a real analogue stereo experience.
The built-in high contrast display always tells you what volume-setting you are listening at and what input currently is in use, while the 32-step digital potentiometer gives you perfect feedback and allows you to fine-tune to your desired volume. Pressing the volume knob switches between the available inputs. For further convenience an infrared remote control is included.
Apart from the turntable itself, the device includes a line-level input, and two outputs, one phono-level (to drive the cartridge output to a different phono preamplifier) and a line-level to drive an external system. There is, also Bluetooth connectivity.
According to the press release, turntable feet, especially designed for the purpose, ensure that the record player is completely decoupled from the surface, making sure that no vibrations can be passed to the tonearm or the cartridge, for an undisturbed listening experience. Nevertheless, the company says that to achieve the best possible sound with low vibrations and feedback and to maximize the stereo image, it is critically important to respect the 2/3 triangle rule, i.e. your loudspeakers must be at least 2m apart from each other while your listening position should be 3m away from them. Additionally, if you plan to use your turntable on the same surface as the loudspeakers, damping feet, such as Damp it, is a good idea to effectively decouple the loudspeakers from the surface.
The included remote control allows for volume setting, switching between available inputs and adjusting bass and treble.
For more information: http://project-audio.com/
---