Pro-Ject upgrades their iconic Primary turntable to Primary E.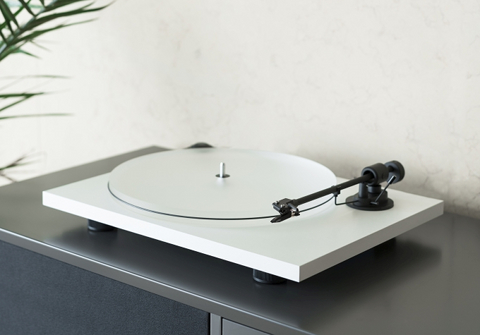 Source: Press Release, Last Accessed: 2018/08/15
Since its original launch in October 2016, the Primary turntable from Pro-Ject Audio Systems, the Vienna-based analogue Hi-Fi specialists, has been an overwhelming international success. Now, in 2018, they have updated Primary to make it more affordable than ever before, without losing the quality fans of the brand have come to expect.
According to the press release, the Primary E still takes its overall design inspiration from a merging of the accomplished Elemental and the multi-award-winning Essential II turntable designs. This combination results in a design that provides traditional aesthetics and a high-quality performance, the company states. Like the original Primary, the Primary E uses the same 8.6-inch aluminum tonearm as the Elemental, with sapphire bearings for optimal tracking. The tonearm is pre-configured and specially engineered to perfectly match the supplied Ortofon OM pick-up cartridge, so there's no need to set-up the tracking force or anti-skate during installation.
Unlike the original model, though, the Primary E now uses a direct-to-mains 230V motor. The design has been proven to work to a high standard on other popular Pro-Ject products, Pro-Ject says, including the original award-winning Debut Carbon design. By removing the need for an external wall-wart power supply, the Primary E eliminates the need for any additional power signal processing but still retains a quiet, consistent motor rotation. The motor itself powers the same perimeter drive belt system as the original Primary.
In its general appearance, the Primary E still takes inspiration from the Essential II. It shares the Essential II's high-quality wood construction and the purpose-designed wood platter/felt mat combination. The only thing the user needs to do is to simply install the belt and connect the output to a system with an MM phono stage.
For more information: https://www.project-audio.com/
---