Quad's Artera Play gets upgraded to Play+.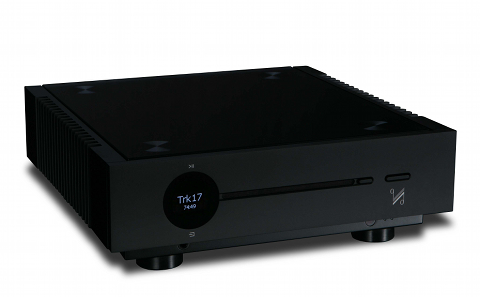 Source: Press Release, Last Accessed: 2018/08/25
Quad has replaced the original Artera Play source component with a new version called the Artera Play+. Like its predecessor, which launched in 2015, the Play+ is a CD player, DAC and preamplifier combined in a single compact chassis. But while its form is familiar, the "plus" suffix denotes a range of improvements that broadens functionality and enhances sound quality.
The first addition is the inclusion of aptX Bluetooth, enabling users to pair smartphones, tablets and computers and stream music wirelessly. Also new is a front- mounted headphone output, positioned discreetly beneath the fascia and coupled to dedicated circuitry that is designed to do justice to even the most capable of cans. Play+ nestles an ESS Sabre32 Reference – the eminent 32-bit, eight-channel hybrid multi-bit Delta- Sigma DAC chip-set – expertly implemented by Quad's renowned electronics engineers. Digital inputs handle PCM data up to 32-bit/384kHz as well as DSD64/128/256. For CD replay, a slot-loading mechanism buffers data from the disc before feeding it to the asynchronous DAC section. Four digital filter options enable users to tailor the sound from both CDs and external digital sources, to suit personal taste and the nature of the source material.
In comparison to the original Play, the Play+ improves the post-DAC analogue filter circuit with a refined topology and superior op-amps that were carefully selected for their synergy with the ESS Sabre32 DAC. The power supply circuitry has also been redesigned, with a larger toroidal transformer and independent low-noise power supplies feeding all critical stages to keep interference to a minimum. These changes contribute to greater sonic clarity and expression, with increased dynamic headroom and crisp, engaging musicality, Quad says. The Play+'s preamp section mixes minimalist design with high-quality components to ensure short, direct signal paths that preserve sonic purity. Volume is digitally controlled in the analogue domain, feeding single-ended RCA and balanced XLR analogue outputs.
The signal path between the DAC and XLR output is a further improvement over the original Play, the four-channel volume control and fully symmetrical topology ensuring the Play+ makes the most of the performance advantages that balanced XLR connection to a power amp can bring.
In light of the additional features and circuit improvements, perhaps the most surprising thing about the Artera Play+ is its price. In 2015, the original Play launched at an RRP of £1,399.95. Thanks to increased production efficiencies, Quad has been able to deliver this enhanced component at a significantly reduced RRP – just £1,199.95. The Quad Artera Play+ is already available with a choice of black or silver front panels.
For more information: http://www.quad-hifi.co.uk/
---