Sonetto Collection: Sonus faber offers an affordable loudspeaker series.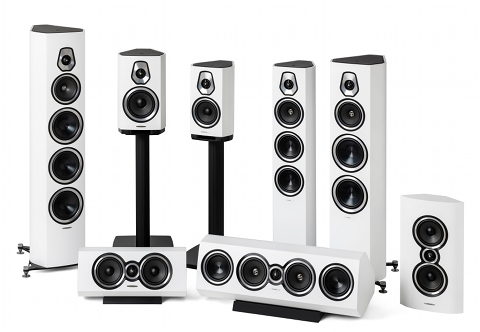 Source: Press Release, Last Accessed: 2018/09/29
The new Sonus faber Sonetto line draws upon many iconic elements from models further up the Sonus faber range, including a top in natural leather, hand-sewn and embellished by the branded Sonus faber logo from the Olympica Collection, while the company developed new technologies for enclosure tuning, new transducers, integrated new materials and refined the production chain.
The collection features eight models: Sonetto VIII, Sonetto V and Sonetto III, floor-standing loudspeakers, Sonetto II and Sonetto I bookshelf loudspeakers, Sonetto Center II and Sonetto Center I, center channel models, and the versatile Sonetto Wall, an on-wall model which can be used as a main stereo, multichannel surround or LCR solution.
According to the press release, for the first time in this price range, the new collection features the so-called "Voice of Sonus faber", the iconic configuration of tweeter and midrange that features the DAD (Damped Apex Dome) tweeter technology and a midrange complete with their proprietary natural fiber recipe cone, previously only available on Olympica, Homage and Reference collections.
Sonetto is a "true" Sonus faber collection in the sense that it features all of the iconic elements of the brand, the company states: natural sound, natural materials, the Lute shape, the pristine finishes typical of fine Italian craftsmanship, cutting-edge technology and manufacturing done completely in their factory in Vicenza. The front baffle is an integral part of the cabinet creating a seamless structure with the curved sides. This form is accented by gun-metal finished aluminum aesthetic frames and a soft leather top. Solid aluminum hardware is used throughout the design to provide solidity and maintain consistency with the rest of the product portfolio. Down-firing reflex ports allow for forgiving room placement and consistent bass output throughout the listening environment.
All the models in the series feature the Paracross Topology crossover design, the DAD tweeter, purpose-built Midrange/Mid-woofers, using a special blend of natural fiber and air-dried cellulose, and custom built woofers, designed from scratch with Sonus' die cast basket and a special aluminum alloy diaphragm.
Sonetto collection is available in three finishes, Matte White, Piano Black and Wood.
For more information: https://www.sonusfaber.com/
---