Suzanne Ciani released LIVE Quadraphonic album via limited pressing vinyl.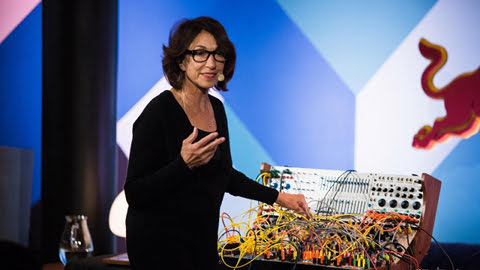 Source: Press Release, Last Accessed: 2018/05/16
Suzanne Ciani released LIVE Quadraphonic digitally on her birthday June 4th, 2018, with a numbered Quadraphonic vinyl package available for direct pre-order and at Ace Hotel locations around the world from June 29th. The performance, recorded live at Gray Area in San Francisco on March 5, 2016, was her first solo Buchla synthesizer performance in 40 years, beginning a string of exclusively quadraphonic performances around the world at events including Ableton LOOP, Marfa Myths, MOCA Detroit, Moogfest, Terraforma, Red Bull Music Academy, Sonar, SXSW and an upcoming performance at Ambient Church in New York City.
Suzanne Ciani's performance at Gray Area, like every other since that day have been in the long forgotten Quadraphonic format; the earliest true 360° listening format of which the original Buchla 200 synthesizer natively output via the Buchla 227 quad output module. Since that performance, a global array of sonic experts have worked together to rebirth this Quadraphonic vinyl LP.
For this experimental release and inspired by the Buchla 227 quad output module, there is a limited edition of only 227 numbered, 45 rpm, 180g, quadraphonic LPs, plus a custom quadraphonic hardware decoder made in collaboration with Involve Audio to decode two channels of audio from the vinyl disc back to the four-channel recording- allegedly with stunning results. The vinyl discs were thoughtfully pressed at Jack White's Third Man Pressing plant in Detroit, MI and are fully compatible for play with any vinyl playback systems in stereo. Current owners of vintage Regular Matrix quadraphonic receivers may also listen to LIVE Quadraphonic in quad via any format, digital download, streaming, radio broadcast or vinyl.
As a part of its commitment to sonic exploration via its Studio A program, each Ace Hotel around the world will carry a specific serial number of the limited vinyl release in the Ace Hotel shop. Each numbered vinyl corresponds to a number in the address of each hotel location, starting June 29th, 2018. Select record stores including Third Man Store Detroit, Third Man Store Nashville, and others will also be carrying the vinyl on the same date.
For more information: http://www.cykik.com/, https://www.sevwave.com/
---