SweetVinyl's SugarCube SC-1: Bring your vinyl records back to life.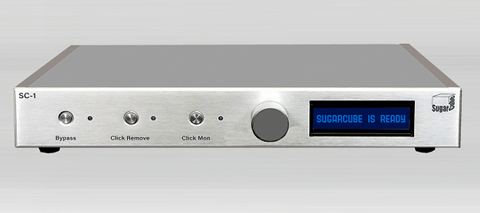 Source: Press Release, Last Accessed: 2018/07/12
The SugarCube SC-1 has been designed to enhance the enjoyment of vinyl records with a pioneering click & pop removal technology created by SweetVinyl, a Silicon Valley-based start-up focused on elevating the vinyl experience with old or damaged records.
The SC-1 is an all-in-one vinyl noise removal device. Designed as the first audiophile-grade product to enable non-destructive click & pop removal on any vinyl LP record in real-time; simply install it in your system and watch it work its magic, playing older records like they're brand new again, the company says.
The device uses a sophisticated, proprietary digital algorithm to detect, isolate and remove only unwanted noise from the musical performance. It is easy to install into any vinyl Hi-Fi system with an external phono stage and the user just needs to press a button to initiate the 24-bit/192kHz digital clean-up, and then turn a dial to adjust the strength of the process.
There is, also, a bypass mode, where a high-quality internal relay isolates the audio signal from any digital process to ensure the listener only hears the original audio exactly as he normally would. SC-1 can be controlled via SweetVinyl's SugarCube app for iOS and Android devices.
For more information: http://www.sweetvinyl.com/
---