Teac takes Hi-Res Audio to the next level with new Reference series models.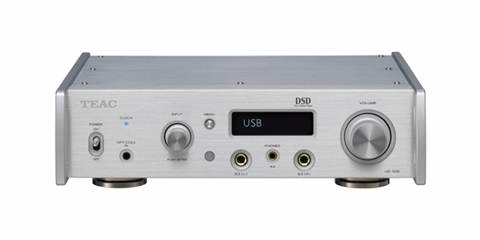 Source: Press Release, Last Accessed: 2018/02/23
Teac has added three new Hi-Res Audio-focused components to its separates-based Reference mini component system. The UD-505 USB DAC/Headphone Amplifier, the NT-505 USB DAC/Network Player and CG-10M Master Clock Generator are simultaneously elegant to behold, easy to accommodate and truly inspiring to hear, the company says.
With a proud lineage going back to 2014, the UD-505 is the third and latest incarnation of a highly acclaimed USB/DAC Headphone Amplifier (replacing the UD-503). The DAC supports DSD512 and PCM 768kHz/32-bit streams, featuring a dual monaural circuit design with a high-end AKM VERITA AK4497 d/a conversion chip on each channel, 5 types of PCM digital filters and 2 types of DSD digital filters, up-conversion up to 24.5MHz DSD and 384kHz/32-bit PCM and dual on-board clocks for 44.1kHz and 48kHz-based sample rates along with a 10MHz external clock input. Also included is the Teac HCLD output buffer circuit and TEAC-QVCS volume control and a Bluetooth receiver supporting LDAC and Qualcomm aptX HD. Output to headphones is realized via a 4.4mm 5-polar Pentaconn jack and dual 1/4-inch TRS jacks.
The 2018 follow-up to the NT-503 USB DAC/Network Player is a worthy successor, improving in every key area of performance (it uses the same upgraded digital processing engine as the new UD-505) while adding important new streaming-related functionality, notably MQA (Master Quality Authenticated) decoding as well as support for TIDAL and Qobuz music subscription services. The player is capable of DSD512 and PCM 768kHz/32-bit PCM streaming, supports music subscription services (TIDAL and Qobuz) and is Roon-ready. Both the d/a chip and the analog output circuit are the same as in the UD-505.
Designed in collaboration with engineers from Esoteric, the CG-10M is a supremely well-engineered Master Clock Generator, designed to deliver an incredibly accurate clock signal simultaneously to up to four components that support a 10MHz clock input. The clock circuit features a high-precision Teac Reference OCXO – an oven-controlled crystal oscillator and offers four 10MHz clock output connectors (gold-plated BNCs). It is compatible with both UD-505 and NT-505.
For more information: http://www.teac.com/
---