Technics' new Premium Class Ottava S SC-C50 wireless loudspeaker.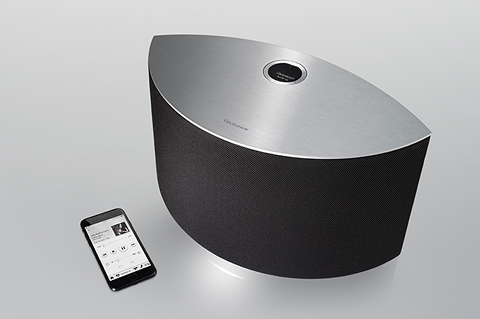 Source: Press Release, Last Accessed: 2018/05/10
In spite of its compact size, the Ottava S SC-C50 offers acoustic technologies that deliver clear sound across a remarkably wide soundstage. A room calibration technology also allows free speaker placement, and highly diverse network reproduction is supported for an advanced wireless music experience. Technics' original Four JENO Engines produce optimal performance, through subwoofer, midrange, and tweeter alignment. This achieves excellent tuning and optimizes sound spaces to fit individual listening environments using Space Tune. The S SC-C50 also features the LAPC function, which is load adaptive amplifier technology developed by Technics. LAPC measures the amp's frequency amplitude phase characteristics with speakers connected to the unit, and performs digital signal processing to achieve the ideal impulse response. Parameters optimized for the low-frequency and high-frequency speaker load characteristics are preset in the LAPC computation circuit of the unit to realize ideal frequency and phase characteristics over the entire frequency range.
The arc-shaped body houses 3 midrange drivers, 3 tweeters and 1 subwoofer, while left- and right-angled speakers and a center speaker create rich stereo imaging and crisp vocals, the company states. A "directivity-control horn" eliminates mutual speaker interference to achieve wide directivity, and a coaxial midrange and tweeter ensure vertical directivity with less frequency disorder from the compact body. The 1.6-cm tweeters deliver high-res sound up to 50 kHz. This combines with a front-firing 12-cm long-stroke subwoofer and a straight, large-diameter, long port. A total of 7 units in the rigid, glass fiber body produce powerful sound from the 3.1-channel amplifier.
Space Tune optimizer offers 3 preset modes to suit the mounting location and a microphone built into the main unit to enable an Auto function to optimize the sound from the main unit. Google Chromecast compatibility makes it easy to enjoy a wide variety of music streaming services from a smartphone and in addition to USB playback and analogue/optical input, the S SC-C50 supports Bluetooth, Spotify, Tidal, and Network Playback. The loudspeaker combines a thick aluminum top panel which increases the rigidity of the chassis with an iconic OLED surrounded by ring keys for easy operation.
For more information: https://www.technics.com/
---