The Unico CD Uno CD player and Unico Due integrated amplifier from Unison Research.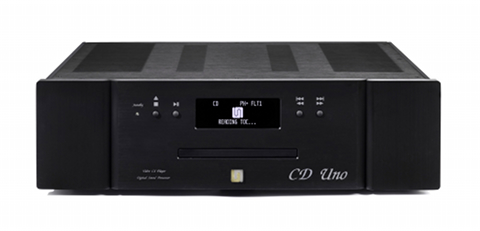 Source: Press Release, Last Accessed: 2018/11/13
The Unico line from Unison Research, a product series which successfully merges valve and solid-state technologies, was recently enriched through a new CD player/DAC with a tube-based, pure class A output stage and a new hybrid integrated amplifier featuring a dual triode-based preamplifier stage and a MOSFET power stage.
The DAC portion of the CD Uno is equipped with USB and Toslink inputs, which each route through the built-in ESS Sabre ES9018K2M DAC chip and high-quality I/V converter stage featuring a Texas Instruments NE5532AD. The USB input of the CD Uno supports signals up to 384kHz PCM and 11,2896MHz DSD, while the optical input handles up-to 24-bit/96kHz PCM signals. The CD Uno's Bluetooth functionality allows for wireless streaming from any Bluetooth-enabled smart device. Set-up is simple and the integrated aerial avoids the need for any unsightly appendages attached to the back panel. Similarly, the CD player section uses a premium mechanism and sleek drawer-loading system to neatly integrate into the CD Uno's imposing facade. Internally, the CD mechanism is shielded by a thick metal cover, to avoid interference. The analog output stage uses one 12AU7//ECC82 double triode, operating in pure class A, followed by a solid-state discrete buffer still operating in class A for a low impedance output.
The Unico Due replaces the long-standing Unico Secondo in the line, but brings new features to the range while also drawing inspiration from the superior Unico 90 design. The heart of the preamplifier stage is based around two ECC83 double triodes (one per channel), which were purpose-chosen after hours of listening tests, the company says. Configured as a gain stage followed by a cathode-follower, the circuit's low output impedance efficiently drives the power stage that follows for minimal electrical interference.
The power amplifier stage itself features a sophisticated implementation of MOSFET transistors resulting in 100W per-channel output (at 8 Ohm loads). The Unico Due stands out as a modern system hub, offering multiple line-level inputs, a USB DAC and a phono stage. The USB input features an ESS Sabre DAC ES9018K2M with jitter eliminator circuit, offering support for audio files up-to 32-bit/384kHz PCM and DSD256. The phono stage is preset to accept moving magnet (MM) cartridges, but can be modified by a service engineer to cater for moving coil (MC) devices. Additionally, the Unico Due offers AV pass-through, a subwoofer output, a DAC output and a tape loop.
For more information: http://www.unisonresearch.com/
---