HW-40: VPI's 40th Anniversary Turntable.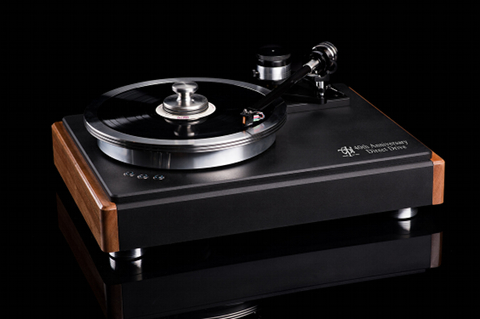 Source: Corporate website, Last Accessed: 2018/10/22
As a milestone in the foundation of VPI, it was a goal to develop and produce a direct drive turntable to pay tribute to the company design roots. VPI team, with help from proven electrical engineer Michael Bettinger, created the HW-40 Direct Drive, an evolution of VPI's 40-year design and engineering which holds the DNA of their Class A+ Classic Direct design.
The new turntable retains VPI's initial Direct Drive motor design but benefits from the best of 2018 motion control circuitry/software and vibration isolation technology. The motor coils are constructed of a solid copper square cross-section wire embedded in a composite structure. This facilitates a high precision high efficiency motor and offers high torque and excellent cooling, achieving 93% efficiency and a torque of 2.68 Nm/sec and accelerating the 11kg platter assembly to full speed and decelerating to a stop in 1 second. Mechanically, the motor assembly is milled from a solid billet of 6061 aluminum. Precision mated to the rotor, the stator and platter bearing create an integrated drive system, minimizing vibration and noise. The motor assembly uses a 5-point mounting to secure it to the top panel.
Motor speed feedback utilizes a ring encoder providing 2500 pulses/revolution, monitored by cutting edge motion control software and motor drive circuitry. The motor control programming utilizes the same hardware/software used in many state-of-the-art/precision manufacturing tools and inspection systems.
The chassis is made from solid machined .7500 thick 6061 aluminum finished with a textured black color and with an internal dampening plate. The isolation system incorporated into the HW-40 direct drive is the product of two years of development, the company says. It features a combination of mass loading/mechanical stiffening, selective damping and skillful combinations of elastomers to isolate the table and cartridge from the physical world around it. Every part is mounted with machined screws into blind tapped holes for a clean and sleek look/design.
HW 40 includes a 12-inch gimbal, 3D printed, Fat-Boy arm with triangular to circular resonance canceling design. The robust gimbal bearing uses ABEC 9 bearings made in Japan for ultra-low friction. The tonearm features an adjustable, threaded, counterweight for accurately fine tuning the vertical tracking force. New Fat-Boy VTA design, offers a smoother and more robust adjustment through machined aluminum and steel knob.
The turntable will be shipped with a removable hinged dust cover.
For more information: https://www.vpiindustries.com/
---