Weiss introduced the DAC501 and DAC502 DSP DAC/Network renderers.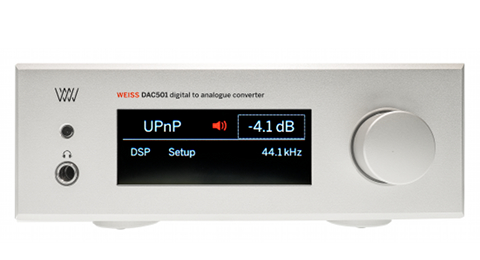 Source: Official website, Last Accessed: 2018/01/04
With the DAC50x duo, Weiss created a new paradigm for what used to be a black box device. A typical d/a converter is, normally, a "set and forget" device but the DAC501 and DAC502 add a number of interesting signal processing features, offer a variety of digital inputs and a full set of analog outputs. Note that the two devices are almost identical, as the DAC502 uses a larger chassis but otherwise offers the same features as the DAC501, except for an additional 4-pin headphone socket at the back of the unit.
The DAC50x uses a stainless steel chassis with a solid 10 mm aluminium front panel and features a powerful non-switching power supply. All the sensitive voltages have their own regulators which are separated between left and right channels, the result being an analog output free of "digital noise" and channel crosstalk. An internal high precision/low jitter clock generator is responsible for clocking the D/A converter section. The sampling frequency of that generator is fixed at about 195kHz and the input signals are converted to this frequency for optimal signal quality while this scheme also helps significantly in reducing any jitter related effects, the company states. All standard sampling frequencies up to 384 kHz plus DSD x64 and x128 are supported. Both devices feature five inputs, AES/EBU or S/PDIF via XLR, Toslink and RCA sockets, UPnP/DLNA streams via Ethernet and a USB port.
Both the DAC501 and 502 include a digital signal processing chip (DSP) and run a variety of algorithms, including a Room Equalizer to suppress room modes, a three-band tone control with low boost/cut, high boost/cut and mid boost/cut, to correct those recordings which do not quite sound right, a De-Esser (for automatic removal of overly bright sibilances from human voices which can be more or less pronounced depending on the loudspeakers or room acoustics, a Constant Volume, to adjust the audio volume (loudness) to a constant value across all tracks played, Vinyl Emulation to add the sonic character of a record player based playback chain and a DMM-CD emulation of the procedure offered by the Stockfisch label.
Weiss, also, included their Crosstalk Cancelling (XTC) algorithm for the playback of dummy head recordings or live recordings via loudspeakers for an incredible live sensation, and an "Out Of Head Localization" algorithm - a cross-feed like processing implemented in the digital domain, for listening via headphones. Roon streaming, MQA decoding and Airplay are, also, considered for implementation.
The DAC50x feature one of the latest 32 bit DAC chips on the market and two d/a conversion channels are used per audio channel, resulting in exceptional performance specifications. Both devices include unbalanced (RCA) and balanced (XLR) outputs with menu-selectable levels, an 1/4-inch TRS jack headphone output. The DAC502 includes an additional 4-pin XLR headphone output. Discrete output stages for both line and headphone outputs are employed.
For more information: http://www.weiss.ch/
---