Wharfedale unveiled the new D300 Series.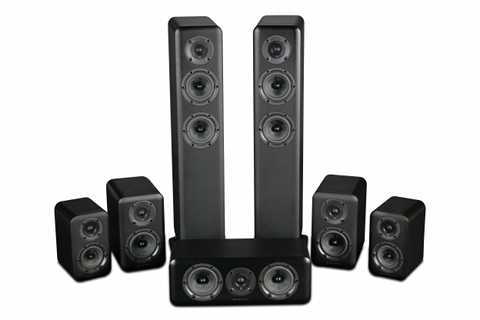 Source: Press Release, Last Accessed: 2018/09/28
In the early 1980s, Wharfedale created the blueprint for modern budget Hi-Fi speakers when it made the first-ever Diamond – the classic entry point to high-fidelity sound. Almost four decades on, Wharfedale again redefines the low-cost, high-performance speaker concept with an all-new range, the D300 Series.
Starting at just £159 per pair (in the UK market), the range consists of four models: two compact stand-mount speakers – the D310 and slightly larger D320 – and a floorstander called the D330. These are joined by a center channel speaker for home cinema systems, the D300C. The range will run concurrently with the existing Diamond 11 Series, attaining even lower price points. While the D300 models do not sport the curved cabinet sides of the Diamond 11 speakers, their modishly styled enclosures incorporate many similar technologies, re-designed and engineered specifically for this new range.
For the bass/mid drivers, the latest generation of Wharfedale's long-established woven Kevlar cones are bonded to a super lightweight surround made of hi-tech foamed polyether, delivering remarkable clarity, texture and musical expression. These cones are driven by a super-long-throw voice coil motor system and a specially shaped one-piece pole plate fitted with a copper cap motor with oversized ceramic magnets. WFR (Wide Frequency Response) tweeters, developed for the Diamond 11 Series and fine-tuned for the D300 range are used in all models, featuring their own precisely shaped rear chamber damped with a fiber filling.
The output of the drivers is carefully combined by a thoroughly researched crossover developed using Wharfedale's advanced software and Listening Iteration system. Each crossover is carefully evaluated using a wide range of music, with the emphasis being on the lifelike reproduction of voices and instruments in addition to the dynamics of the musical performance, Wharfedale says. Crossover components feature low-loss polypropylene capacitors and laminated core inductors for optimum transfer of the music signal.
The cabinets feature 28mm-thick front baffles, profiled at the edges to reduce edge-diffraction reflections at mid to high frequencies. Critical bracing of the cabinet panels contributes to the eradication of audible resonance and, combined with the rounded cabinet edges, yields a rigid base on which to mount the drive units.In addition, the cabinet walls are lined with a specially developed internal fiber, chosen for its outstanding absorbent qualities across a wide bandwidth.
The Wharfedale D300 Series is already available in a choice of black, white, walnut and rosewood.
For more information: http://www.wharfedale.co.uk/
---