DS-2 : Wharfedale's new stereo Active/Bluetooth loudspeaker.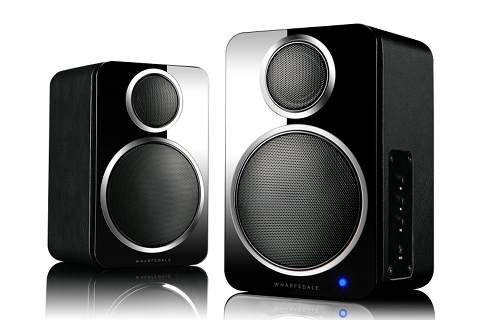 Source: Press Release, Last Accessed: 2018/02/28
Bluetooth loudspeakers are wonderfully convenient, but all too often their sound disappoints, says Wharfedale, as they announce their new DS-2 stereo Bluetooth system, an entirely different proposition, based on the now-discontinued DS-1, a similarly diminutive pair of Bluetooth loudspeakers widely acknowledged as the best available in the low price range.
According to the press release, the DS-2 reconstructs the original DS-1 concept with an all-new design, delivering even better value-for-money performance. The DS-2 is a pair of "proper" two-way Hi-Fi speakers shrunk to desktop size, standing just 190mm high, 120mm wide and 140mm deep, featuring a 19mm silk dome tweeter and a 75mm mid/bass driver. The mid/bass driver's cone is fashioned from woven polypropylene, chosen for its ideal combination of lightness, strength and low coloration. Both drive units are protected by specially designed metal grilles, while a rear-firing port augments low-frequency performance to provide bass that's surprisingly deep and punchy for the speakers' size, the company states.
Inside the master speaker nestles new-generation, high-performance digital amplification outputting 2x15W continuous and 2x30W peak. This drives the treble and mid/bass units via a high-quality crossover network containing select audio-grade components.
Bluetooth provides simple wireless pairing with smartphones, tablets, PCs and Macs, complete with support for the sonically superior aptX codec. Flexibility is further enhanced by a 3.5mm analogue stereo input and supplied cable – this is positioned on the side of the master speaker, along with the volume and pairing controls.
The Wharfedale DS-2 stereo Bluetooth loudspeakers are available from March in a choice of black or white, at an RRP of £179.95 (in the UK market).
For more information: http://www.wharfedale.co.uk
---