Yamaha debuts Aventage RX-A 80 Series with Artificial Intelligence Technology and MusicCast Surround.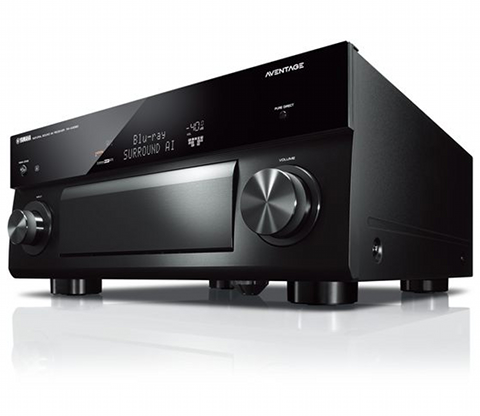 Source: Press Release, Last Accessed: 2018/06/05
Yamaha unveiled their new Aventage RX-A 80 Series with three of its receivers—the RX-A1080, RX-A2080 and RX-A3080— equipped with Surround:AI, a next-generation artificial-intelligence technology, which makes for a clearer, more engaging listening experience by automatically adjusting audio levels on the fly to match the scene setting. All six receivers also come with MusicCast Surround technology, which allows for a 5.1-channel setup with wireless surrounds.
According to the press release, the new receivers are built with the highest-quality components and refinements include a choice of electronic components that suppress digital noise and vibrations that reduce audio quality, a sturdy frame-and-beam chassis with a fifth foot to dampen sound-degrading resonances, and an aluminum front panel that shields sensitive internal circuitry from electronic noise generated by dimmer switches and other home electronics.
Surround:AI automatically tailors audio performance to match individual scenes in a movie or TV show. In real time and on a scene-by-scene basis, Surround: AI analyzes a scene's audio characteristics, including dialog, sound effects and channel balance. The AV receiver then compares the scene's audio characteristics to a reference database of movie scenes and automatically processes the scene's sound field to enhance the audio experience.
All six Aventage receivers also feature wireless MusicCast Surround, which gives home theater fans the opportunity to use wireless loudspeakers for a home theater's Surround Left and Surround Right. Other new Aventage features include voice control via Amazon Alexa equipped devices, including Amazon's Echo smart speaker. Consumers will be able to control commonly used functions—such as on/off, volume, and play/pause/skip—without searching for a remote. All models add out-of-the-box support for a trio of HDR (high dynamic range) video standards—HDR10, Dolby Vision and Hybrid Log-Gamma. As a result, the receivers pass through HDR-enabled 4K Ultra HD video, allowing HDR-compatible 4K TVs to display the video with the highest contrast ratios and reveal details previously not visible in the darkest and lightest portions of a scene.
The new receivers feature Bluetooth, Wi-Fi, MusicCast, Apple AirPlay, highly popular music-streaming services—Pandora, Spotify, SiriusXM Internet Radio, Deezer, TIDAL and Napster—and thousands of free internet radio stations. For movie enthusiasts, all receivers play back 3D object-based Dolby Atmos and DTS:XTM soundtracks, which add height channels to traditional surround sound systems. The RX-A 80 Series lineup starts with the RX-A680, a 7.2-channel receiver and includes the RX-A780, RX-A880, RX-A1080, RX-A2080 and the top of the line, the 9.2-channel RX-A3080 model that connects to an optional external 2-channel add-on amplifier to deliver an 11.2-channel Dolby Atmos or DTS:X sound field through 7.2.4-channel loudspeaker layouts.
For more information: http://www.yamaha.com/