Yamaha RX-V385 AV Receiver gives aspiring AV enthusiasts best value.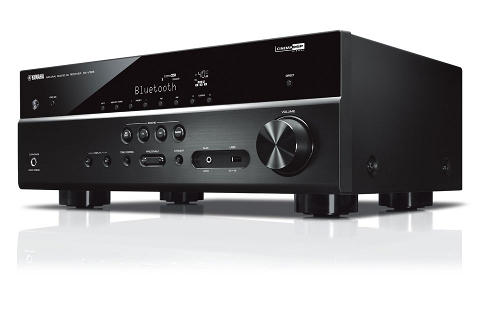 Source: Press Release, Last Accessed: 2018/04/09
Yamaha introduced the RX-V385 AV receiver, bringing the best in audio and video technology to those exploring the possibilities of their home theater setup on a budget, by offering the latest in audio and video technologies at an affordable price point.
The RX-V385 comes equipped with YPAO calibration, a proprietary Yamaha technology which analyzes the room acoustics and adjusts various audio parameters for optimum sound, automatically, in just a few minutes. Additionally, the RX-V385 supports the latest high definition audio and video technologies, including built-in Bluetooth for wireless music streaming, stunning 4K Ultra HD video with HDCP 2.2 (4/1), high dynamic range (HDR), BT.2020 compatibility and a discrete 5.1-channel amplifier design.
Additionally, the RX-V385 incorporates CINEMA DSP technology, which supports the playback of HD audio options like Dolby TrueHD and DTS-HD Master Audio to provide the most natural and expansive sound imaging possible in this entry-level receiver, the company states.
The RX-V385 expands on last year's model, the RX-V383, by offering the ability to bi-amp the front speakers in 2.1-channel or 3.1-channel setups, which drives the treble and bass ranges with independent amplifiers. According to Yamaha, in addition to providing greater power, this approach also prevents interference between the high and low ends, further improving the sound of the front speakers. Furthermore, unlike its predecessor, the RX-V385 is equipped with binding post terminals on all channels, which provide better contact and allow for the use of easy-to-use banana connectors.
"The RX-V385 offers budding home theater buyers cutting-edge technology at an accessible price point," said Robert Goedken, general manager, AV division, Yamaha Corporation of America. "When you factor in YPAO automatic acoustic technology, 4K Ultra HD support, HDR and Dolby Vision, this receiver gives entry-level consumers uncompromising value with everything they need to get started to enjoy a full 4K sound experience at home."
The Yamaha RX-V385 AV receiver is available at $299.95 MSRP (in the US market).
For more information: http://www.yamaha.com/
---