Zesto Audio unveiled a Deluxe version of their Andros phono preamplifier.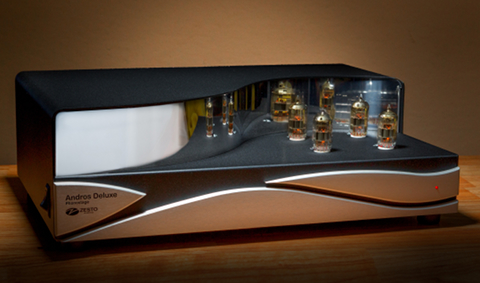 Source: [official website], Last Accessed: 2018/09/28
The Andros Deluxe phono stage is created from taking the very best attributes from both the Andros 1.2 Phonostage and the Andros Tessera phono stage, including the same footprint as the former and many of the internal features of the later, while maintaining its own unique sonic personality.
A unique feature of the Andros Deluxe is the use of the 12DW7 tubes in the output circuit. The 12DW7 tube is half a 12AX7 and half a 12AU7, the second being used to drive the output transformers because it is high current and low noise, thus allowing for the most frequently requested feature, a true floating ground balanced output. The extensive grounding scheme, the circuit design and steel enclosure all play a significant role in the noise reduction of the phono stage, the company says. The heart of the design is the new main circuit incorporating the same large beefy MC step-up transformers as the Tessera, as well as an entirely new output circuit (featuring the aforementioned 12AU7) to drive the balanced output transformers.
The high quality built in MC step-up transformers are designed for better phase linearity and are, also, large enough to accommodate all the extra windings and the Mu-metal shielding that reduces noise. This translates to better stereo imaging, Zesto Audio says. According to the details published, the tube compliment is a pair of gold pin, high gain, low noise 12AX7's and a pair of gold pin, high current, low noise 12DW7's in a dual mono architecture for better stereo separation. The Andros Deluxe features a 10-position MC load selector (with 1000, 800, 700, 600, 500, 400, 300, 200, 100 and 50-Ohm values) which can be adjusted "on the fly" without clicks or pops and a gain switch which applies to both MC and MM inputs.
Connections are through gold plated RCA and XLR connectors, for better conductance and lower corrosion and all switches and knobs are easily accessible, so the user does not need to open the chassis to adjust the device. Zesto offers a 50 hour factory burn in on all circuits and vacuum tubes.
For more information: https://www.zestoaudio.com/
---