Aurender's W20 Special Edition.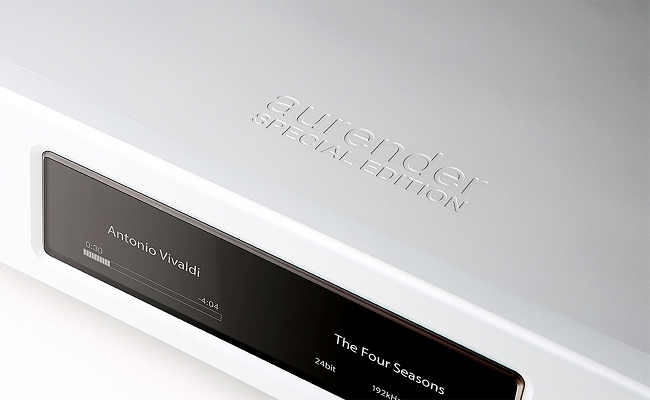 Source: Corporate website, Last Accessed: 2019/09/04
Since its launch in 2013, the Aurender W20 has been regarded as on of the top music server solutions. Now, revised and refined in 2019, the new W20SE (Special Edition) aspires to raise the bar again in both user experience and absolute audio performance, the company says.
W20SE was designed to be used with high-performance digital-to-analog converters, is one of the few music servers to provide support for external word clocks and features a dual-wire mode AES/EBU used by some reference grade digital-to-analog converters to allow separate transmission of left and right channels. A battery-based power supply, with two banks of LiFePO4 batteries that alternately powers the audio circuits and performs recharging, is used to reduce noise, while two SSD drives, a 4TB for storage and a 1TB for caching are used to support even the most extensive high-resolution music collections. An FPGA-based DPLL, with OCXO clocking circuit is used to maintain long term jitter to below negligible levels and specially designed circuitry provides clean, noise-free power to the dedicated USB 2.0 digital audio output.
The Aurender W20SE is equipped with various S/PDIF outputs (Dual AES/EBU, Coaxial BNC and Optical) and one dedicated USB Audio Class 2.0 output. For network connectivity and file transfers, the W20SE comes with a Gigabit Ethernet port and two USB 2.0 data ports. Aurender's platform is, also, capable of selecting and playing content stored in a NAS or an external USB hard drive using Folder/File browsing. Content on the USB HDD or NAS drive can be conveniently copied to the internal storage of W20SE using the Aurender Conductor App.
The SE version supports PCM streams up to 768kHz and DSD streams up to DSD512 (through the USB port) and up to 192kHz via a single-wire connection and 384kHz via a dual-wire connection through its S/PDIF outputs for PCM streams. DSD can also be streamed through S/PDIF up to DSD128 (using DoP). There is, also, an upsampler for PCM, up to 192kHz via a single-wire connection and up to 384kHz via a dual-wire connection.
The Aurender Conductor App turns practically any smart device into a versatile user interface and comes with features to make browsing and playing high resolution music collections a breeze, the company says. Two streaming services, Qobuz and Tidal (subscription required) are embedded within the app allowing easy access to millions of high-resolution albums. Aurender Conductor can be utilized on both IOS and Android platforms, so users can access their music using the Apple iPad or various Android phones or tablets.
For more information: https://aurender.com/
---