Auris Audio unveiled the Euterpe headphone amplifier.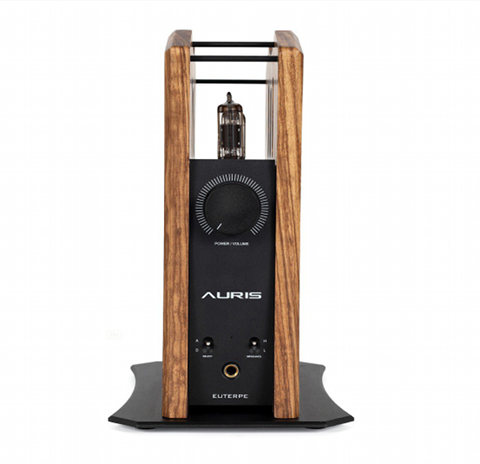 Source: Press Release, Last Accessed: 2019/02/14
Auris Audio unveiled the Euterpe, a new high end headphone amplifier. According to the Greek mythology, Euterpe was one of the nine Muses, the Goddess of music and a ''giver of delight'' and that's exactly what the Auris Euterpe will bring to audiophile community: more happiness, the company says.
Designed in a single ended configuration and featuring an integrated audiophile asynchronous DAC with XMOS/ESS Sabre solutions, it is capable to use digital sources such as PC or mobile devices. Housed in a piece of art chassis, including a vertical wooden stand, the "Euterpre offers an original mechanical and electric design which results in the high end sound quality. Deep sound-stage, great tonality and top level of dynamics are the main features of Auris headphone amplifiers", Auris stated.
The digital section can handle streams with bit rates up to 32bit/384kHz (PCM) and DSD128, and the amplifier, also, offers a single ended, analog, line level input. Tube complement includes an ECC81 double triode and a pair of PL95 pentodes, in a class A/single ended configuration yielding up to 900mWrms. There is an output impedance selector, offering a Low (32-80 Ohm) and a High (>150 Ohm) mode. Output is through a standard 6.3mm TRS jack and there is a single ended (RCA) preamplifier output.
For more information: http://aurisaudio.rs/
---