Boulder announced the new 2108 phono preamplifier.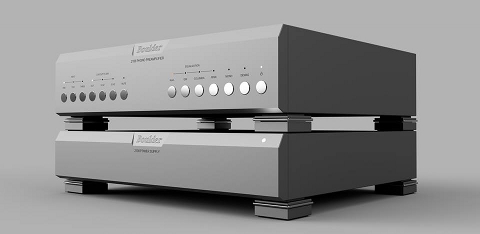 Source: Press Release, Last Accessed: 27.02.2019
Boulder was recently announced the immediate release and shipment of the 2108 Phono Preamplifier. The 2108 is a part of the 2100 Series, Boulder's highest-performing product line in continuous production and is their reference level phono preamplifier.
2108 features several substantial advancements in technology and performance over the previous generation 2000-level phono preamplifier through the use of better ground paths and planes, revised circuit topology, and lowering of the static noise floor. Increased use of surface-mount PCB technology, manufactured on Boulder's own SMD manufacturing machines and ovens, has also yielded improvements in noise radiation, propagation delay, parasitic capacitance and the elimination of lead inductance in selected circuits, the company stated.
Features and improvements in the 2108 include multiple equalization curves (FFRR, Columbia, and EMI), enabling correct and accurate playback of LP records made prior to 1954, dual chassis architecture, and 10dB higher gain for MC cartridges. The new preamplifier features Boulder's own 995 gain stage, a modular, discrete, initial gain stage for significantly reduced distortion and noise and MC Cartridge Demagnetizer Pass-through, a pair of RCA connections included on the rear panel to allow the use of an external cartridge demagnetizer for certain MC cartridges. Circuit architecture is fully balanced/dual mono, all inputs and outputs are high quality, full-balanced 3-pin XLR connections and all audio circuitry is executed in a dual-mono configuration for increased isolation of the left and right channels.
2108 offers three inputs per channel for connecting multiple turntables or tonearms, each with customizable "Personality Cards" which can be tailored to meet the resistive and capacitive loading needs of specific phono cartridges. Dual outputs are included to feed both a main listening system and/or a recording system.
All functions and controls are actuated with a logic system to eliminate any internally radiated noise, such as that from a microprocessor and all cartridge loading is handled by a single high-precision resistor instead of any type of switched or remote controlled loading system. The tiny analog phono signal is never run through any sort of switch or relay or multiple solder connections that would significantly increase loss and distortion, the company says.
Other features include a selectable low cut filter with cut off points at 10 Hz or 20 Hz (it can, also, be turned off), selectable true mono mode for monaural recordings played on a stereo cartridge, and extensive damping and shielding for each of the main power transformers to eliminate hum pickup in the audio stages or audible chassis buzz.
For more information: http://boulderamp.com/
---