DMS-550/DMS-600: Cary Audio's new streamers/DACs.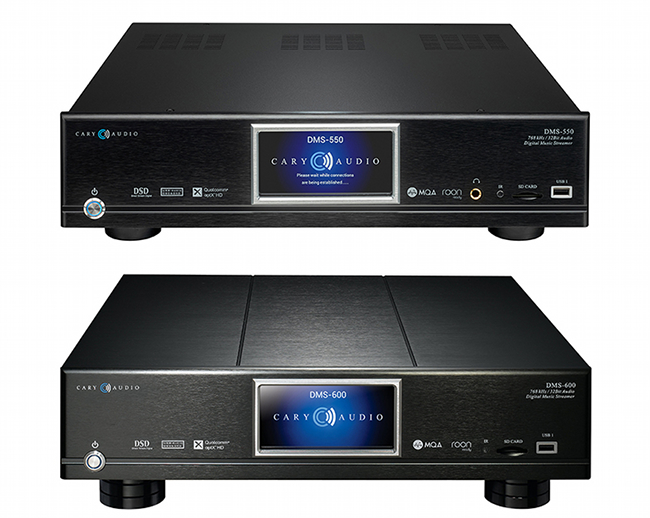 Source: Press Release, Last Accessed: 2018/11/02
Cary Audio announced their two new models at the end of 2018. They are the replacement of the successful DMS-500, offering critical upgrades both in the structure, the electronics and the chassis, while they both can, also, be used as a digital preamplifier.
As a direct replacement for the award-winning DMS-500, the new DMS-550 incorporates the newest AMK4493EQ DAC chips. The AK4493EQ adopts much of AKM's Velvet Sound architecture, achieving higher performance than the previous AK4490EQ. Unlike the DMS-500, the new DMS-550 has a built-in discrete headphone amplifier that, according to Cary, is capable of delivering an outstanding headphone sonic performance driving even the most difficult headphones. Bluetooth has also been upgraded to include aptX HD over standard aptX, producing high resolution 24-bit 48kHz audio via Bluetooth. The MQA decoder includes an optimization to provide superb rendering up to 768kHz using the AKM DAC, while the Wi-Fi has been updated to the latest MU-MIMO protocols to allow for greater speeds over 5GHz.
The DMS-600 builds upon all the same features of the DMS-550 with a few enhancements, including the use of the flagship Verita Series AKM4497EQ Velvet Sound architecture premium 32-bit DAC. The DMS-600 includes special anti-resonate feet, anti-resonate all extruded aluminum top cover and sides, matching the same color as its faceplate, as well as an enhanced shielding material on the chassis. Although it does not have a headphone amplifier like the DMS-550, it does include a Bluetooth output for use with Bluetooth headphones or Bluetooth loudspeakers.
Like their predecessor, the DMS-500, the new DMS-550 and DMS-600 can also be used as a digital preamplifier to connect directly to a power amplifier. They also include the same USB, SD card, S/PDIF inputs and outputs, true balanced designs with both RCA and XLR outputs, same UI, IR remote, and free iOS and Android apps. Both are Roon Ready and include the same internet music services as the previous DMS-500, but -now- Qobuz is also added.
For more information: https://www.caryaudio.com/
---