Chord Electronics announced the Huei phono preamplifier.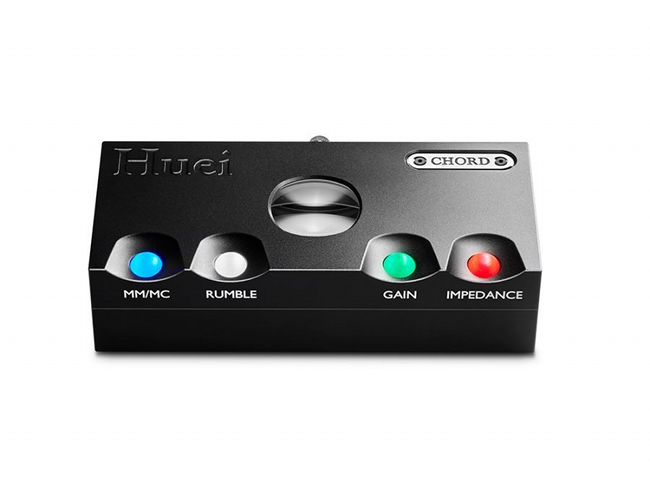 Source: Corporate website, Last Accessed: 2019/05/23
Entirely conceived, engineered and manufactured in Great Britain, Huei has been carefully designed to provide turntables with the same high standards of amplification that Chord Electronics has become known for over the past 30 years, the company says.
Supporting both moving magnet and moving coil cartridges, Huei offers wide compatibility thanks to comprehensive gain and impedance-matching options; Huei's high- and low-gain switching settings are easily accessible via front-panel controls, introducing welcome flexibility.
Huei's advanced design offers (for the first time in a Chord Electronics phono preamp) ultra-low-noise microprocessor control of its main features, including a convenient memory function. With multiple options for impedance-matching (30Ohm–47kOhm, 50pF–150pF), switchable gain (60dB, 65dB, and 70dB) and a switchable rumble filter (50Hz, 24dB/oct), Huei's design easily accommodates a wide range of phono cartridges.
Precision-machined from solid aircraft-grade aluminum billet, Huei has a similar form factor to the company's Qutest DAC and, also, offers their classic, top-mounted viewing window into the illuminated electronics within. The design also shares the same polychromatic control spheres the company has become known for in its digital products. The illuminated front-panel spheres offer direct access to Huei's gain and impedance settings, selection for MM/MC cartridges and access to the on-board rumble filter.
Huei is a stylish, practical and high-performance solution for integrating turntables into Chord Electronics' (and other) systems, the company states. The preamplifier features both balanced (RCA) and unbalanced outputs (XLR) with RCA inputs. A high-quality 12V external power supply is also supplied. RIAA de-emphasis accuracy is ±0.1dB.
For more information: https://chordelectronics.co.uk/
---