Exposure adds new CD player to multi award-winning compact XM series.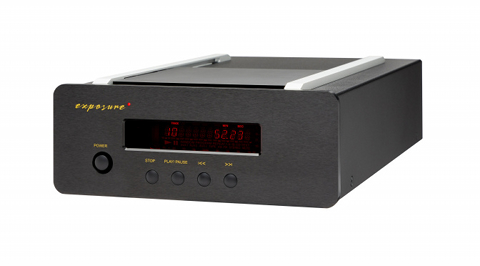 Source: Press Release, Last Accessed: 2019/01/24
In 2017 Exposure launched the XM series of Hi-Fi components, packing an impressive complement of high-end features and performance into a compact and affordable design. Since then, a lot of customers asked for a CD player, Exposure says. Now, their expectations are met with the series' CD player.
The Exposure design philosophy offers their new device the flexibility to operate either as a standalone CD player, or -also being designed as a CD transport- to connect with the brand's XM5 integrated amplifier or XM7 preamp. Exposure have crafted a top-loading mechanism that sports a sliding lid and comes with a magnetic clamp. Suddenly, loading a CD feels almost as pleasing as cueing up a vinyl record, the company states.
Exposure XM CD player features a PCM 1716 24-bit DAC, along with a highly optimized audio output circuitry with multiple stages of supply regulation and a large toroidal power transformer with separate windings for CD transport mechanism and audio stages. A high-stability crystal clock reference and a dedicated power supply regulator for the transport and audio stages ensure low jitter performance, while high quality double-sided PCBs for optimum layout and screening are used for all the electronics. The chassis is all-aluminum with an extruded front panel, to control unwanted resonance and electromagnetic fields.
Exposure XM CD player includes a full-function remote control and its display can be turned off using the remote for enhanced sound quality.
For more information: http://www.exposurehifi.com/
---