DS-10: Gold Note unveiled new DAC/Streamer-Analog Preamplifier/Headphone amplifier.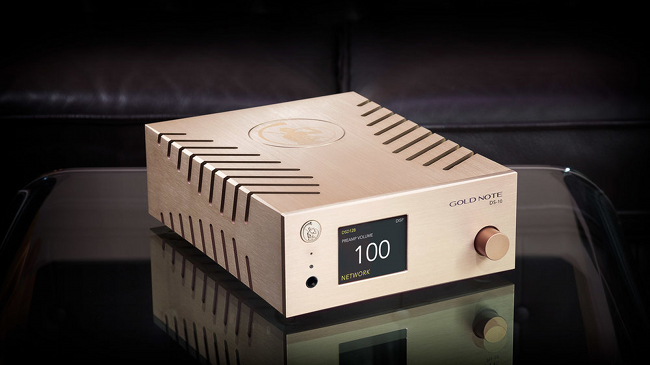 Source: Corporate website, Last Accessed: 2019/06/12
The DS-10 is designed to cover the needs of the contemporary audiophile, completing any audio system and offering almost all kind of Internet and digital connectivity in a convenient elegant shape. DS-10 is an innovative D/A Converter that is easy to install and use every day.
The DAC can be matched with traditional CD players, TV or Media Servers and is compatible with almost all internet services including Roon, Tidal, Qobuz, Airplay, Spotify, Deezer, V-Tuner, from which it can play DSD, PCM and MQA formats. The user can connect devices via Wifi/LAN but also via Bluetooth 5.0.
The DS-10 includes S/PDIF coaxial, TOS-optical, and AES PCM 24bit/192kHz inputs, one USB-B (Host) asynchronous port for native and DoP DSD64/128 and PCM up to 32bit/384kHz and, also, plays directly from hard disk and USB sticks (FAT32/NTFS) via USB-A, featuring streamer and network player functions, fully controlled via an app, remote control and a front panel user interface.
The new device features a switchable analog preamp stage and a professional-grade headphone amplifier with an adjustable sensitivity and a 6.3mm TRS output. A 2.8-inch TFT monitor shows useful information and the app allows to fully control the unit's functions. A remote control is included while Gold Note's SKC (Single Knob Control) technology makes it easy and quick to control DS-10 using a single joggle in the front panel.
The DS-10 DAC features an easy to set up iOS and Android proprietary software for full control via iPhones and iPads as well as smart phones and tablets. The App makes it easy to fully control DS-10 and even lets the Web Player to stream through the analogue volume control when the preamp stage is activated.
DS-10 features a high quality chassis, made of solid machined aluminum which guarantees low resonances and good magnetic shielding properties. The compact and iconic air vent design derives straight from the acclaimed PH-10 phono stage.
It is already available in black, silver or gold, brushed aluminum finish.
For more information: http://www.goldnote.it/
---