GoldenEar unveiled the Triton One.R.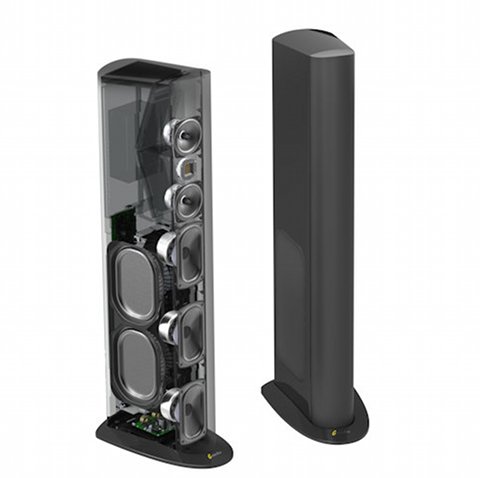 Source: Press Release, Last Accessed: 2018/11/29
GoldenEar Technology unveiled the new Triton One.R, a new reference quality loudspeaker which is a smaller, less expensive follow up to the Triton Reference, an effort to bring the advanced technology, luxurious cosmetics and state-of-the-art performance of the flagship into a more compact and less expensive model.
According to the press release, the new model's monocoque cabinet is constructed of multi-density medite, engineered with the goal of making it as non-resonant and inert as possible, thus eliminating extraneous vibration that could detract from the pure sound of the drivers. To do this, an elaborate system combining bracing and damping pads, optimized with the use of an accelerometer-generated cumulative spectral decay analysis, is utilized. The baffle is as narrow as possible, minimizing diffraction issues, which is effective in helping to make the cabinet disappear, both sonically and visually. The sides of the speaker are not parallel, to minimize internal reflections. The cabinet is filled with an inert mixture of Dacron and long fiber wool. Then new loudspeaker features an integral built-in high-powered subwoofer supported by a 56-bit DSP to flatten and extend the low frequency response.
There are three newly designed drivers featuring special polymer impregnated Nomex cones, and huge magnet structures, loaded by four quadratic planar passive radiators. The High Velocity Folded Ribbon tweeter, the same used in the Triton Reference, is a new design that incorporates 50% more neodymium magnet material than previous units, for higher efficiency and greater control, the company says. The two 5.25-inch upper bass/midrange drivers are also new, incorporating a special formulation of polypropylene, which combines superior internal damping with a high speed of transmission through the cone (Young's Modulus). A unique "balanced" crossover, with a floating configuration, places components on both sides of the drivers, which has an improvement in sound quality that cannot be measured but can be clearly heard GoldenEar states. Very high-quality bridging capacitors, as used in the Triton Reference, are also used. New internal speaker wire, which has a unique twist, as in the Triton Reference, is used with an advanced new topology.
The cabinet is finished in hand-rubbed piano black lacquer. The Triton One.R is already available for $2999/each.
For more information: https://www.goldenear.com/
---