Grimm Audio unveiled the MU1 Linux/FPGA-based music player.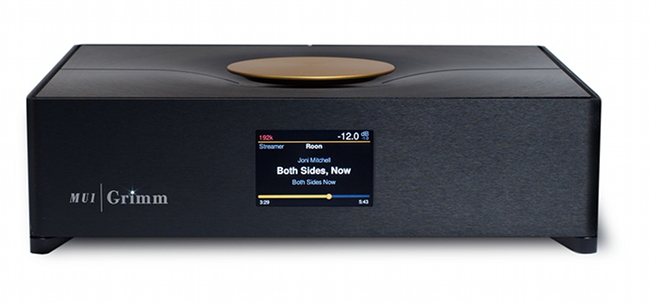 Source: Corporate website, Last Accessed: 2019/05/24
You probably already know about Grimm Audio and their ground-breaking Active/DSP powered high end monitor loudspeaker, the LS1. Recently the company announced the perfect companion for their loudspeaker system, the MU1 music player, a full fledged digital source capable for up- and downsampling, standard and high resolution network streaming, which also includes a FM receiver.
Although, according to Grimm, "the MU1 is the ultimate digital music source (and) combined with an LS1 it forms an extremely elegant High End audio system that hasn't seen his peer", it is obvious that the device could be used effectively with any 3rd party DAC, since it offers only digital outputs (2-channel, but with the option to go up to 6-channel).
MU1 is a Linux based computer system supporting a Grimm's, in-house designed, FPGA interface board, that forms the heart of the MU1, offering seamless playback of all sample rates and formats and featuring the company's trademark ultra low jitter clock.
The MU1 runs Roon Core server, so no extra installs are necessary. The user can just pick-up a tablet and experience the music. For customers who prefer to only run a simple playback system without Roon's extras, there is, also a solid alternative, the company says.
The device supports standard digital connectivity through S/PDIF coaxial (RCA) and optical (Toslink) inputs, an AES/EBU (XLR) input, and Ethernet connectivity both for local resources (including NAS devices) and Internet streaming (Tidal, Qobuz and Spotify Connect services). It can also be used with external USB storage and optionally include an internal SSD if you need more storage.
For more information: http://www.grimmaudio.com/
---