Gryphon introduced the new Ethos Compact Disc player.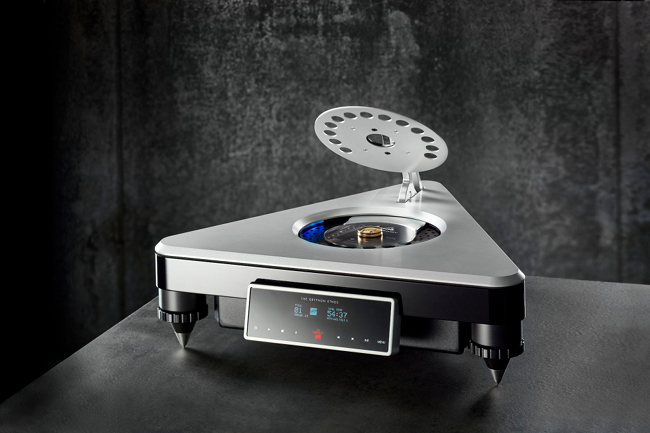 Source: Press Release, Last Accessed: 2019/04/07
The company says that the sleek lines, low profile and stylish blend of metalwork, and high-gloss acrylic in the exterior design of the Ethos CD player can only begin to hint at the sophisticated technology concealed within as Gryphon again takes up the challenge of creating the definitive combination of CD transport and digital-to-analogue converter.
The Ethos is designed with a single-minded dedication to the compact disc, but in addition to handling standard 16-bit/44.1 kHz "Redbook" CDs, it, also, offers playback of external digital sources up to 32-bit/384 kHz PCM and up to DSD512.
The player is fully balanced throughout both the digital/DAC and the analogue domain, implementing eight DAC's in full dual differential mode. This configuration drastically lowers the digital noise floor and contributes to the expansive soundstage and sharply focused stereo image of the Ethos, the company says. Timing issues (aka jitter) are effectively addressed with two independent, specially designed, temperature-compensated crystal oscillators accurate to better than five parts per million.
Gryphon uses upsampling to eliminate the need for conventional, steep slope analogue filtering altogether. In the Gryphon Ethos, this filter is replaced by a single, silvered Mica capacitor acting as a simple, first-order analogue output filter, preserving the integrity of the audio signal for a pristine presentation staged against an utterly silent, "black" backdrop.
The heavily regulated, fully discrete, fully balanced, Class A, analogue output stage employs zero negative feedback and offers both balanced XLR and single-ended RCA phono outputs. The analog section is supplied through 23V rails and careful attention has been paid to all power supplies with separate transformers and comprehensive regulation.
Thanks to its distinctive modular design, Ethos is built to keep pace with digital technology as it evolves. Convenient modification of digital or analogue circuits by a local authorized Gryphon service center as upgrades become available will ensure that the player will remain on the cutting edge of CD playback.
For more information: https://gryphon-audio.dk/
---