Aurora: Immerse yourself in sound with iFi's all-in-one music system.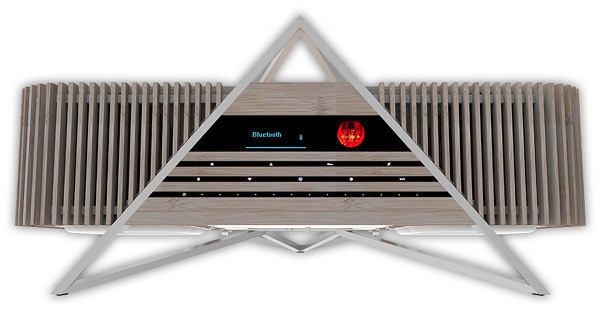 Source: Press Release, Last Accessed: 2019/07/12
iFi's new wireless music system, the Aurora, brings together a unique collection of proprietary technologies to deliver a sonic experience unlike any other tabletop, all-in-one system.
Clad in bamboo and elevated by a distinctive aluminum frame, the Aurora's design was created by French product designer Julien Haziza, inspired by the architecture in Tokyo's Omotesando and Harajuku districts. Six drive units nestle behind the bamboo fins that curve around the Aurora's sides, with a further two bass radiators underneath. The system's control panel sits front and center, with touch-sensitive controls and an OLED display inlaid with bamboo.
The Aurora connects to a home Wi-Fi network, enabling users to stream music via their favorite apps, or play audio files stored on networked devices such as computers and NAS drives. Bluetooth is also included (aptX HD, LDAC/LDHC and AAC). The device features an ESS Sabre DAC and supports data up to 32-bit/192kHz without conversion or down-sampling via Wi-Fi, USB or Ethernet cable. Several Auroras may be linked together on a Wi-Fi network to make a seamless multi-room system, playing in-sync or controlled individually.
At the Aurora's heart lies the proprietary amp technology that iFi calls "PureEmotion" –a hybrid circuit design comprising of a preamp stage with a Russian 6N3P valve and a power amp stage, iFi's "current multiplier circuit". This is a highly efficient switching power amplifier with a fixed switching frequency at around 1.5MHz, far beyond the audible frequency spectrum that results in a high level of efficiency, with high current gain and far greater linearity and lower noise than typical switching amplifiers, the company says. Coupled to this is a low-pass circuit and a feedback loop, the latter ensuring the output frequency is ideal for the load, and everything is "clock-locked" via iFi's GMT (Global Master Timing) circuit to ensure unerring precision.
The PureEmotion amp stage delivers a total of 320W to power the Aurora's custom-made speaker drive units. There are four main drivers – two firing from the front and one from each side, featuring 120mm cones made from coated long-fiber paper, two 28mm silk-dome tweeters, one at each side to cover frequencies from 8kHz to 35kHz and a pair of rectangular passive bass radiators, firing downwards from the underside of the cabinet.
Aurora includes sound-tuning technologies that operate entirely in the analogue domain. The SoundSpace is fundamental to the Aurora's immersive, room-filling performance, enabling the soundstage to extend beyond the confines of the cabinet, while TrueBass ensures the Aurora delivers genuine bass with realistic depth and definition. Additionally, a room correction system called ART (Automatic Room Tailoring), entirely developed in house, is also included, featuring six ultrasonic sensors to measure the distance to the surrounding walls and a 32-bit ARM Cortex microprocessor to adjust the output from the driver array to precisely tailor Aurora's performance.
In addition to wireless connectivity, there are plenty of cable inputs to connect source devices. Optical, coaxial, USB and Ethernet inputs cater for digital sources, while a 3.5mm socket provides an analogue input. There is even a slot for microSDHC cards.
For more information: https://www.ifi-audio.com/