IsoAcoustics' Delos "Butcher Block" isolation platform.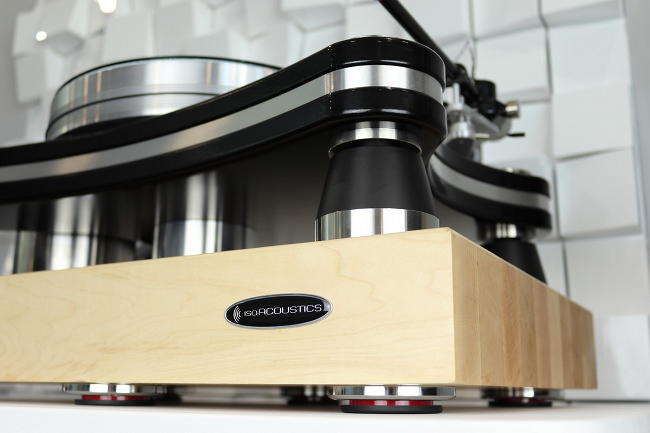 Source: Corporate website, Last Accessed: 2019/07/12
The Delos butcher block from IsoAcoustics decouples the turntable from the supporting surface and dramatically diminishes structural vibrations and resonances, resulting in greater clarity and detail.
In case you are wondering, the name comes from the island of Delos, one of the most important mythological and historical sites in Greece, a windy island, once uninhabitable as it floated aimlessly in the rough Aegean Sea until the Greek god Poseidon anchored it in its place on four granite columns to provide a safe place for Leto to give birth to the twin gods Apollo and Artemis. Obviously, the "floating" and the "granite anchoring" are the main hints, here…
Delos made its European debut during this year's High End Show at Munich, and it is IsoAcoustics' newest line of Hi-Fi centered isolation platforms developed for turntables and other Hi-Fi components requiring a flat surface. Beneath the real-wood solid walnut or maple platform, "iPuck" attachments featuring patented decoupling technology help to reduce reflections from the floor below and allow the product above to operate efficiently while reducing acoustic anomalies.
The Delos provides a flat stable platform for isolating turntables or components. In addition to using IsoAcoustics patented isolation technology, the Butcher Block also provides mass. The mass of the butcher block complements the IsoAcoustics isolators to more effectively eliminate the effects of structural vibrations and resonances, the company says.
Delos is available in two models with two different thickness sizes. The 1815 offers an 18-inch by 15-inch surface with 4 isolators, while the 2216 is of larger size, 22-inch by 12-inch, with 6 isolators. For both models, M1 size is 1 3/4-inch thick and Μ2 size 3-inch thick. The 1815 offers a weight capacity of 29.5kg (for the M1) and 24.9kg (for the M2), while the 2216 supports more weight (45.4kg and 40.8kg for the M1 and M2 respectively.
The thicker 3-inch (76mm) butcher block provides more mass to more effectively diminish structural vibrations and resonances from interfering with the supported turntable or electronic component. The specified weight limits are determined based on the performance curves. The products are able to support additional weight without harm, but the isolation performance is beginning to decline above the specified weight limits.
For more information: http://www.isoacoustics.com/
---