Klipsch introduced new T5 Series earphones, including their first-ever true wireless model.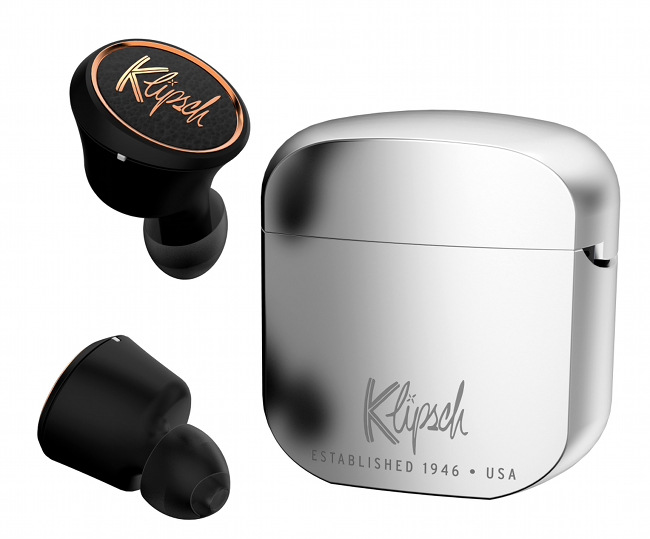 Source: Press Release, Last Accessed: 2019/06/19
Klipsch recently announced that their highly anticipated T5 Series of earphones are now available. The company states that the T5 Series models are small in size and weight, yet powerful in performance, technology and materials, allowing people to listen on the go.
According to the press release, each T5 series model is part of Klipsch's True Comfort design, featuring a combination of the brand's patented oval ear tips, small nozzle, patented housing design and approach angles so they accurately sit inside the ear canal. The soft oval silicon tips reduce ear fatigue, while providing ultimate comfort and an excellent seal for noise isolation and superior bass.
The T5 lineup consists of four models that complement a variety of lifestyles and use cases, and includes the company's first-ever True Wireless earphones, designed to offer up to eight hours of battery life from a single charge, and an additional 24 hours from its brushed-metal charging case. Additional features include four Clear Voice Chat (cVc) microphones for crystal clear calls and ambient noise reduction, all-new Bluetooth v5 battery efficient chipset for increased signal and range, newly designed snap-fit oval ear tips for unrivaled comfort, and USB-C charging. The earphones are digital-assistant ready.
The series also includes the wireless Klipsch T5 Neckband, with 15-hour battery life, dual cVc microphones, and Bluetooth v5, the wireless Klipsch T5 Sport, featuring integrated cable management designed to stay solidly in the ears for even the most strenuous workouts, rated at IPX4 to resist sweat, moisture and rain, and the T5M Wired earphones that work with any device and control music and calls with an all-new miniature aluminum single button-remote with braided fabric cabling.
For more information: https://www.klipsch.com
---