New horn-loaded sound bars from Klipsch.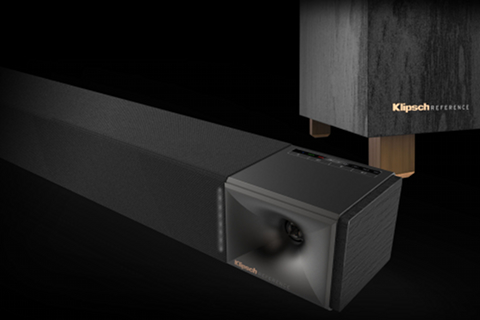 Source: Press Release, Last Accessed: 2018/01/03
Klipsch recently announced new premium sound bars that, according to the press release, are a major upgrade to stand-alone television sound, enhancing movies and music with clarity and realism.
The five news sound bars were showcased at CES 2019 and they appear to be a major upgrade to anyone who wishes for a better sound output from his TV-set, including some serious surround effects. The sound bars are designed with quality materials and horn-loaded technology to look and sound more like the brand's premium Reference speakers than run-of-the-mill black plastic tubes, the company stated. Models range from 40-inch to 54-inch in width, with power and dynamics increasing with size.
Klipsch Bar 40G becomes a personal assistant with the Google Assistant built in, Bar 48W is compatible with the Google Assistant, Alexa and AirPlay 2 and includes DTS Virtual:X immersive surround sound, and Klipsch Bar 54A adds an overhead dimension of sound with Dolby Atmos technology and discrete elevation drivers.
The sound bars may be purchased with or without subwoofers. Prices range from $299-$1,599 (US MSRP). Available spring 2019, with a couple models shipping this fall.
For more information: https://www.klipsch.com/
---