CL1000: Luxman's new flagship Control Amplifier features a new version of the LECUTA attenuator.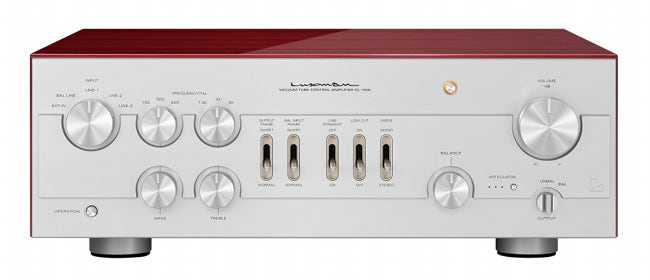 Source: Press Release, Last Accessed: 2019/10/08
Luxman's new flagship control amplifier, the CL-1000, is the spiritual heir to the legendary C-1000, launched in 1975. But, the new device, also, looks forward with an all-new LECUTA volume control system, a nanocrystal core transformer, Luxman's proprietary oil-impregnated capacitors and more, the company says. "The CL-1000 represents everything Luxman knows about vacuum tube audio," said Jeff Sigmund, president of Luxman America. "It's not just our newest preamp, it's our new benchmark."
The heart of any preamplifier is the volume control and or this reason, Luxman created the highly regarded LECUA attenuator system. According to the press release, the CL-1000 refines that concept with LECUTA, the Luxman Electronically Controlled Ultimate Transformer Attenuator. The Volume knob is a 34-step rotary switch that triggers 34 relays, located completely outside the signal path. In turn, the relays activate 34 taps on matching left and right transformers. These transformer taps set the volume in carefully calibrated steps. Because transformer cores can influence sound quality, Luxman engineers selected FineMet core material from Hitachi Metals. This has a unique nanocrystal structure for high saturation flux density, high relative permeability and low core loss. As a result, Luxman states, the CL-1000 delivers uncompromising sound, even at low volume.
The CL-1000 features refinements to take vacuum tube audio a major step forward, including a super permalloy input transformer, six JJ Electronic E88CC dual triodes in a two-stage PK NF design and custom, oil-impregnated, coupling capacitors. The device also includes the Articulator function to demagnetize the transformer cores every time the owner turns on the power and an MM/MC phono preamp with six-position switches on the rear panel to enable users to optimize impedance and capacitance.
The CL-1000 complements the Luxman MQ-300 tube stereo power amplifier and is available at a suggested retail price of $19,995.
For more information: http://www.luxman.com/
---