Mamalos cables introduced The epitome, a liquid nanotubes technology interconnect system.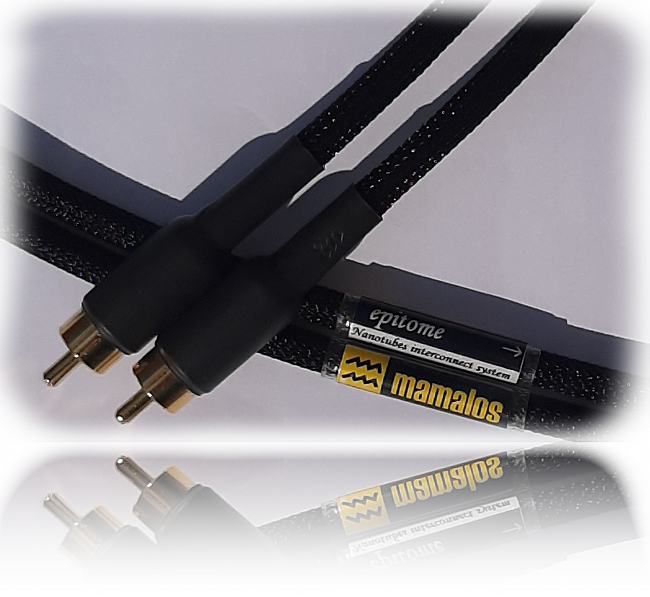 Source: Press Release, Last Accessed: 2019/10/24
The epitome comprises mamalo's effort to employ their newly developed allotropes [1] of carbon nanotubes technologies and redesign the original project into an otherwise classic configuration cable, which offers reference sonic performance at a moderate price. According to the press release, "the result is an excellent quality and efficient high technology product that brings the audiophile closer to the reality by pushing forward all those slight, yet quite important aspects of music such as decay of notes, timbre quality, presentation of musical technique and rhythmic complexity."
Combining unsurpassed transmission quality thanks to an innovate liquid nanotubes conductor, a remarkable screening factor and a significant flexibility along with high durability, low capacitance and stable operation temperature level, the epitome interconnect system is also excellently suited for use as a tonearm to preamp cable as well as a microphone cable in critical professional recordings. All the same, providing a superior digital signal transmission quality over a very high screening factor, epitome interconnect system is also recommended for use as an excellent digital interconnect, the company says.
As with all mamalos' cables, epitome interconnect system is carefully checked, separately measured and double tested in laboratory conditions and every element is subject to constant quality control procedures. The epitome is ready to use at once, as it is already treated by a burn-in signal generator designed specifically for audio interconnects. This device excites the cable dielectric through electric fields for 24 hours, and sends a sophisticated burn-in signal (a combination of wideband noise and swept amplitude modulation) into the wiring and the liquid nanotubes conductor for 48 hours.
The production of each epitome interconnect takes about a week and, if registered, the cable comes with a 4-year warranty against manufacturing defects. The company also offers a 15-day trial period and a money-back guarantee by refunding the purchase price minus a 3% restocking fee (buyer is responsible for the return shipping costs).
The epitome is available in four different lengths (0.8, 1, 1.3 and 1.5m) and any other length can be custom made to support any special requirements.
[1] From the web: Allotropy or allotropism is the property of some chemical elements to exist in two or more different forms, in the same physical state, known as allotropes of the elements. An allotrope is each of two or more different physical forms in which an element can exist. Graphite, charcoal, and diamond are all allotropes of carbon. Wikipedia entry.
For more information: http://www.mamalos.com/
---