Marantz's Limited Edition KI Ruby Range.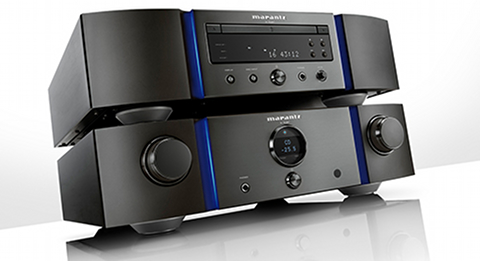 Source: Press Release, Last Accessed: 2018/09/13
To celebrate their brand ambassador, Ken Ishiwata's, 40th anniversary with the company, Marantz released -last Autumn- two very special limited-edition KI-Ruby components: the SA-KI Ruby SACD/CD player and PM-KI Ruby amplifier, which will be made in a limited run of 1000 units apiece.
Both models are set apart by a laser-etched facsimile of Ishiwata's signature, a "Ruby" motif atop their front-plates and they are designed and tuned by a team led by Ishiwata, to deliver truly outstanding sound – as well as being destined to become instant collectors' items.
Since joining the company in 1978, Ken Ishiwata has been at the heart of the development of the Marantz sound, and has led the team responsible through some of the company's most celebrated products. He introduced the idea of "Special Edition" tuning, taking an established product and applying even higher quality components to further enhance performance, and developed the "KI-Signature" range of CD players and amplifiers, which has delighted thousands of enthusiasts over many years, the company says. Both models in the KI-Ruby series, and are ground up designs, drawing not only on decades of Marantz experience in disc players, DAC and amplification, but also the development work for the SA-10 and PM-10.
As well as playing both SACDs and CDs to an exceptionally high standard, the SA-KI Ruby also has multiple digital inputs, including USB for connection to a computer, and processes digital audio using Marantz's single-bit Musical Mastering (MMM-Stream upconversion and MMM-Conversion) to produce an analogue output. The new transport ( SACDM-3) can play SACDs, CDs, and compilations on CD-ROM or DVD-ROM, and the SA-KI Ruby also has an asynchronous USB input, able to handle formats all the way up to PCM/DXD 384kHz/32bit and DSD11.2MHz.
The PM-KI Ruby amplifier is an all-analogue design, with a preamplifier stage using proprietary HDAM technology, and a switching power amplifier design delivering 100W per channel into 8ohm and 200Wpc into 4 ohm, derived from the flagship PM-10 amplifier. In addition to line inputs, it employs the newly-developed low-noise Marantz Musical Premium Phono EQ circuit, with both moving coil and moving magnet capability.
For more information: http://www.marantz.com/
---