PM7000N: Marantz introduced new high-performance integrated amplifier.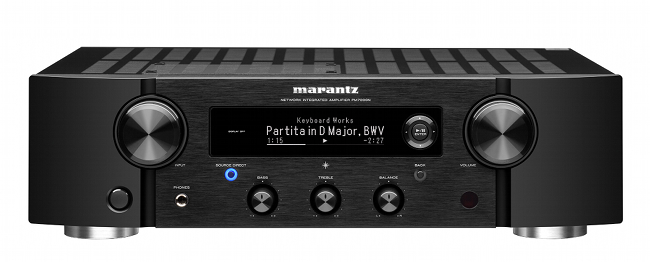 Source: Press Release, Last Accessed: 2019/09/26
Marantz recently announced the PM7000N, the company's first fully discrete integrated Hi-Fi amplifier with high resolution music streaming capabilities. With HEOS built-in, listeners can stream music from various on line services or local music file libraries and listen to them through a well-cared, audiophile amplifier design which includes hand-selected, high-grade audio components to deliver truly exceptional sound quality with Hi-Res audio support, outstanding phono stage, and more, the company says.
Designed with renowned Marantz technologies like the company's proprietary Current Feedback amplification and Hyper-Dynamic Amplifier Modules (HDAM-SA3), the PM7000N also features a toroidal transformer and high-speed instantaneous-current power supply, which provides 2x60W into 8 Ohms or 2x80W into 4 Ohms. The PM7000N also boasts a newly developed preamplifier section that leverages the latest electronic volume control to achieve outstanding channel separation and exceptional signal-to-noise ratio, Marantz says.
The PM7000N will stream almost unlimited content and deliver music to any room throughout the home using other HEOS built-in-capable speakers or electronics for a wireless, whole-home entertainment experience. Listeners can enjoy music from Amazon Music (HD), Spotify Free and Premium, Tidal, Deezer, TuneIn, local music file libraries including FLAC HD 192/24 as well as DSD 5.6 and more. In addition, the PM7000N supports Spotify Connect streaming for users with free account. Streaming content can additionally be delivered using Bluetooth or Apple AirPlay 2.
The PM7000N is equipped with four analogue inputs and one analogue output, and features one coaxial and two optical digital inputs, along with a USB-A input for high resolution audio files. The subwoofer output features an adjustable low-pass crossover to tailor bass response to each unique listening environment. Marantz says that the PM7000N introduces a new integrated phono input design that integrates a FET (field-effect transistor) in the input stage providing a high input impedance, eliminating the need for AC coupling capacitors and simplifying the signal path, lowering distortion and vastly improving the signal purity overall.
For more information: http://www.marantz.com/
---