Mark Levinson unveiled two 5000-Series Integrated amplifiers.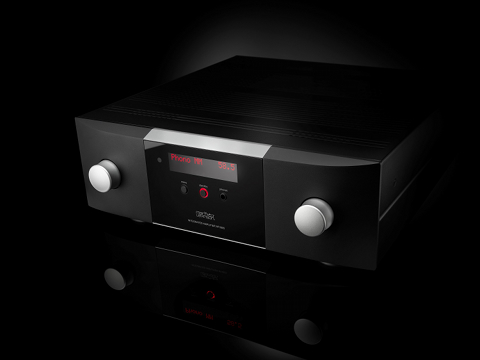 Source: Press Release, Last Accessed: 2019/01/07
Mark Levinson showcased the first two models from their new 5000 series, the №5805 and №5802 integrated amplifiers at CES 2019. Both models were created to deliver all of the performance and quality expected from Mark Levinson, the company stated.
According to the press release, the foundation of the №5805 is ML's patent-pending, fully discrete, direct-coupled, dual-monaural line-level preamp circuitry. A unique single gain stage mated to a digitally controlled resistor network for volume adjustment maintains maximum signal integrity and widest possible bandwidth. Each of its three stereo line level inputs—one balanced XLR and two single-ended, using custom Mark Levinson RCA connectors—has its own individual high-reliability signal switching relays. Like the 500 series components, the Main Drive headphone output employs a preamp output stage specifically designed with the current and power capacity to drive headphones directly, in pure Class A, without a separate headphone amp. The №5805 also includes a newly designed MM/MC phono stage with front panel selectable gain levels and infrasonic filters, and rear panel capacitive and resistive loading settings.
The №5805 offers digital audio capability through the Mark Levinson Precision- Link II DAC. The latest generation ESS Sabre 32-bit D/A converter with jitter elimination circuitry and a fully balanced, discrete current-to-voltage converter form the heart of the digital audio processing stage. Four digital audio inputs are provided: one coaxial and two optical S/PDIF, and one asynchronous USB for playback of high resolution PCM (up to 192kHz/32 bits) and DSD (up to DSD 5.6MHz) files. A powerful XMOS USB audio processor also decodes and renders MQA-encoded files.
The №5802 is an all-digital integrated amplifier featuring the same Precision- Link II DAC expanded to six digital audio inputs: One AES, two coaxial and two optical S/PDIF, and one asynchronous USB for playback of high resolution PCM (up to 192kHz/32 bits) and DSD (up to DSD 5.6) files. The №5802 includes MQA (Master Quality Authenticated) technology, which enables play back of MQA audio files and streams. A Bluetooth receiver equipped with AptXHD enables the highest quality Bluetooth playback available.
Both amplifiers feature fully discrete, direct-coupled, class AB power stages, based on an oversized (500+ VA) toroidal transformer with individual secondary windings for the left and right channels. The voltage gain stage employs a topology directly descended from the acclaimed №534 amplifier, which is mated to an output stage comprising two high-speed driver transistors operating in class A and six 260V, 15A output transistors. Two Thermal-Trak devices in a unique configuration guarantee stable output bias regardless of load or temperature. Four 10,000uF capacitors per channel, located directly on the output stage circuit board, easily provide enough current for a conservative 125W/channel at 8 ohms, 250W/channel at 4 ohms, and stable operation down to 2 ohms.
The №5805 and №5802 will be available in first quarter 2019 at MSRPs of $8,500 and $7,000 respectively.
For more information: https://www.marklevinson.com/
---