ELEMENT 114: Merrill Audio announced new power amp based on Ultra-Fast Gallium Nitride (GaN) power transistors.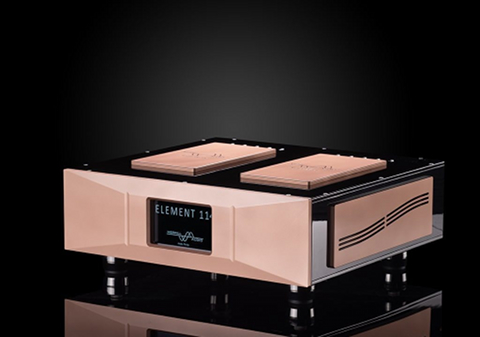 Source: Press Release, Last Accessed: 2019/05/03
Merrill Audio applied trickle down technology from the award winning ELEMENT 118 and ELEMENT 116 monoblock power amplifiers released last year and introduced the ELEMENT 114 stereo power amplifier, a design based on zero feedback topology and GaN transistors to offer zero dead time and bottomless noise floor.
According to the press release, the ELEMENT 114 ZXOL proprietary design technology leaps ahead of all other Class D implementations and provides more detail and immediacy than almost any amplifier in any amplifier class. Using advanced Gallium Nitride (GaN) transistors and advanced PCB design techniques, the dead time is reduced to zero, removing any distortion. Dead time is the time a MOSFET transistor takes to discharge or charge when changing states. Since there is no dead time distortion, the ZXOL proprietary design also has zero feedback, offering much more detail, more information and much greater immediacy all with a sense of ease and openness, the company says.
The ELEMENT 114, just like the ELEMENT 116 and ELEMENT 118, utilizes a custom LLC resonant power supply with a custom transformer as an inductor and appears to be load invariant, delivering power across all complex loads that doubles from 200W into 8 ohms, to 400W into 4 ohms and to 800W into 2 ohms. Full protection circuity is built in, using a fast signal reduction design to avoid clipping on the outputs.
The new amplifier features a polished black Nickel and Rose Gold Face plate and accents. A 20A AC inlet is used for tighter connection. The XLR input has a full Teflon body and rhodium plated silver pins, while binding posts are pure copper. Gain is 26dB, and the amplifier yields 400W into 4 ohms at 0.08% distortion.
The Merrill Audio ELEMENT 114 stereo amplifier is priced at USD$15,000.
For more information: https://merrillaudio.net/
---