Okki Nokki RCM: An affordable record cleaning machine.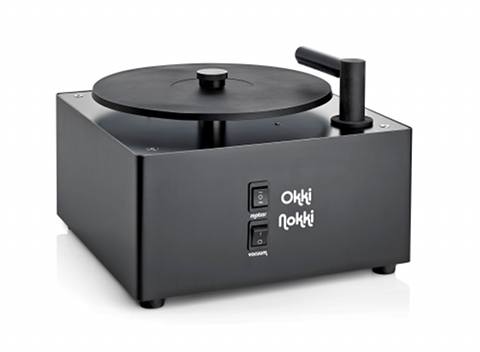 Source: Press Release, Last Accessed: 2019/02/26
If you're investing in building up a vinyl collection, you're no doubt keen to keep your records in tip-top condition so that you can hear them at their best. Still, a record cleaning machine may feel like a bit of stretch. Fear not, Dutch brand Okki Nokki has the solution.
According to the press release, the Okki Nokki RCM offers unbeatable value for money. Priced at about €350,- (£435,-), it is a compact yet powerful piece of kit whose build quality, features and performance might reasonably be expected to come with a considerably higher price tag. Originally conceived around 15 years ago by Dutch designer Johan Bezem, its design and construction have steadily and deliberately evolved over time, adding a raft of enhancements while keeping the price firmly in check.
Compact, sleek in appearance and surprisingly light for a record cleaner, the Okki Nokki features a quiet-running vacuum motor, the ability to spin in both directions and a float mechanism that stops it operating when the fluid needs to be drained.
The machine comes complete with its own concentrated cleaning fluid and a goat-hair brush – everything you need to get straight down to the business of bringing your beloved records back to pristine condition. Operation is via two switches: one for forward/reverse and the other for suction.
For more information: https://www.okkinokki.com/
---