fenestria: PMC's fact range flagship.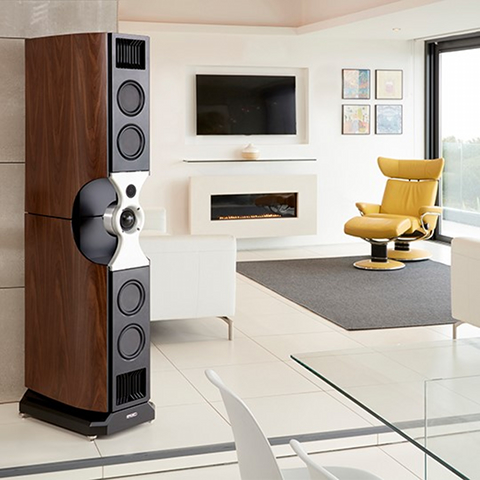 Source: Corporate website, Last Accessed: 2019/03/19
Fenestria is a 1.7m tall, three-way, floorstanding passive loudspeaker, featuring twin ATL loading, tailor-made drivers, twin Laminair™ vents for improved aerodynamic airflow, plus a newly designed cabinet that houses the treble and mid-range units.
The new flagship of the fact loudspeaker range, stands out thanks to its central module or "nest", housing the high frequency and midrange drive units. Honed from a solid billet of aluminum, the nest is isolated and decoupled from the rest of the cabinet. This prevents the enormous energy of the Advanced Transmission Line and four bass drive units from interfering with the critical information coming from the high and midrange units.
The 19.5mm Sonomex high frequency unit features a neodymium magnet assembly and PMC-designed dispersion grille and is isolated from the midrange unit and the nest with a silicone-damped PMC suspension mount, the Auriole.
PMC's midrange driver has achieved legendary status in both Hi-Fi and pro-audio worlds. The 75mm unit in fenestria is wholly new and takes the midrange performance up to another level, even by PMC's standards, the company says.
The four 165mm long-throw bass drivers each feature a massive magnet assembly and a flat diaphragm comprising two layers of transverse-weave carbon-fiber, hand made by a specialist motor sport manufacturer, sandwiching a rigid multi-cellular damped core. According to PMC, the rigid but ultra-light diaphragm ensures a highly accurate, near-instantaneous response and provides the sheer power required to drive the compact, high-compression transmission line without deformation and consequent coloration.
Also shared with the world of auto sport are the Laminair vents, situated at the end of the twin Advanced Transmission Lines (ATL), PMC's proprietary bass-loading technology. Using principles of aerodynamics used from F1 to Le Mans, the Laminair vent creates a smooth, laminar airflow as it exits the ATL. This reduces turbulence and drag, increasing efficiency, eliminating air noise.
According to the details published, such is the high energy produced by the bass drivers and twin ATLs, a more innovative approach was required to preventing unwanted low-frequency vibrations from passing into the heavily braced cabinets. The sides of fenestria's cabinet have been engineered to resonate in opposition to the rest of the loudspeaker assembly. The result is the elimination of vibrations before they leave the cabinet – the side panels cancel out all the unwanted energy produced by the drivers, leaving nothing but music.
The crossover is situated in the loudspeaker's plinth and is acoustically isolated from the rest of the cabinet. Every crossover component is meticulously tested and listened to before selection, and is strategically positioned to eliminate interference between them. The plinth also houses the high- and low-frequency tuning controls, which ensure ideal integration with all rooms and source equipment.
For more information: https://pmc-speakers.com/
---