Pro-Ject presented the Ortofon Century Anniversary-Turntable.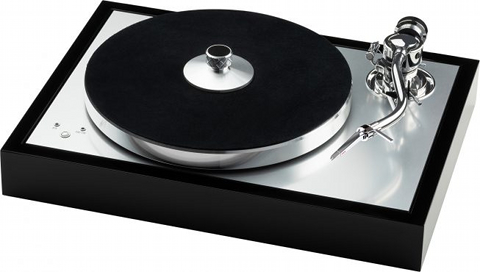 Source: Press Release, Last Accessed: 2018/12/08
Pro-Ject Audio released the Ortofon Century turntable in conjunction with Ortofon, to celebrate their 100-Years jubilee. Built on The Classic SB it has a few tweaks -including a new, sophisticated, aluminum sub-platter- which result in even better performance.
The new turntable comes in an elegant piano black chassis which together with the silver aluminum sub-chassis results in stunning aesthetics. The supplied cartridge is a limited edition Concorde and marks the celebration of Ortofon's 100 years of existence. It is based on a Concorde cartridge, which was mostly used as a DJ system, but has its origins in HiFi. The Concord Century uses pure silver coils for best possible conductivity. As a result, the sound will be more open and more precise, the company says.
The Ortofon Century turntable comes fully equipped with a built in electronic speed control, offering change from 33.3 to 45 rpm with the ease of pushing a single button. If there is a collection of 78 rpm shellac records, the turntable offers the option to manually placing the drive belt on the upper ring of the pulley and selecting the respective speed on the sub-chassis. The tonearm is a 9-inch aluminum, S-type, SME compatible model, with a Japan-made main ball bearing, fully adjustable both in azimuth and VTA. The turntable features height-adjustable decoupling feet and includes a leather record mat and a clamp. The Ortofon Century is available worldwide for €2.990.
For more information: http://www.project-audio.com/
---