Pro-Ject Audio unveiled new Record Cleaning Machines.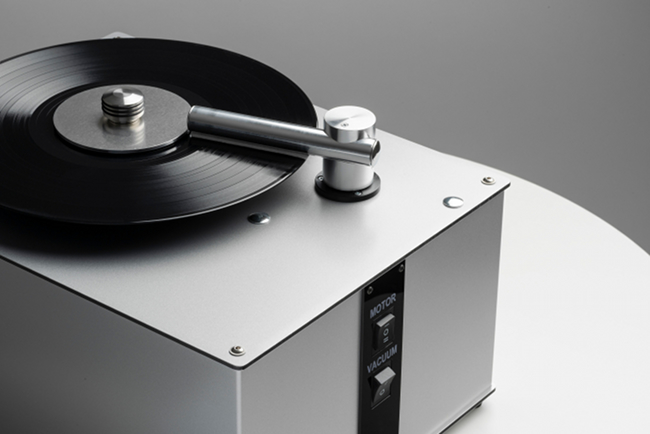 Source: Press Release, Last Accessed: 2019/09/04
Pro-Ject Audio Systems' first vinyl record cleaner, the VC-S, revolutionized the affordable vacuum record-cleaning machine market and its success was amplified by the growing demand to maintain people's ever-growing vinyl record collections. The two new machines, VC-E and VC-S2 ALU, represent the evolution of this original design. The VC-S2 ALU is a direct replacement to the original VC-S, but the VC-E has been designed as a more affordable, compact solution.
Both models feature an aluminum outer surface, which is able to withstand a fluid spill without compromising the chassis and they are powerful enough to clean records in as little as one or two rotations, the company says. The drive motor is very fast, at around 30rpm, which is roughly three times faster than comparable cleaning machines. The result is a much faster and more effective cleaning process. A clamp protects the record label from the cleaning fluid, while still securing the record in place. The robust metal arm is easy to use, mechanically stable and focuses all suction power directly onto the record surface. Pro-Ject's eco-friendly and non-alcoholic vinyl cleaning concentrate, Wash-IT, offers very good cleaning results and reduces static charge, so record wear and stylus wear are significantly reduced.
The VC-S2 ALU features a larger internal container (2,5 liters, VC-E's is 0.5 liters) to collect used fluid and is effortlessly easy to empty. When using Wash-IT cleaning solution, the fluid will also evaporate in the container, meaning the container will almost never need to be emptied even after cleaning thousands of records. It shows fill-up capacity and guarantees no spillage of used cleaning fluid. The bigger model, also includes a better aluminum clamp to secure the record and protect its label while its increased size allows for quieter operation and improved handling of the record and cleaning liquid application processes.
MSRP for the VC-S2 ALU is €499 and for the VC-E is €399 (incl. VAT).
For more information: https://www.project-audio.com/
---