Pro-Ject's classic turntable design re-imagined with the new X1!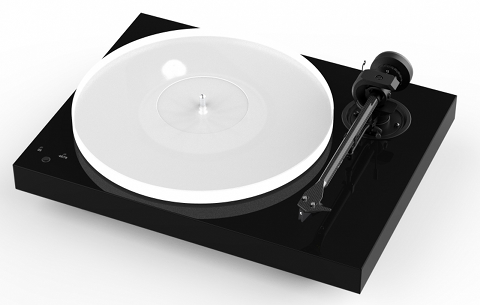 Source: Press Release, Last Accessed: 2019/04/14
In 1991, Pro-Ject started a revolution in Hi-Fi with the introduction of the Pro-Ject 1 turntable., a new, high quality but low budget turntable at a time when CD was king. Now, their new X1 is based on the same concept as the P1, but is improved in every aspect, thanks to modern materials and new production methods.
According to the press release, the new turntable features a heavier, denser, less resonating new MDF-made plinth and a better platter from non resonating, heavier acrylic material. The motor drives the platter via a sub-platter and a premium grade main bearing. It uses a new suspension for better vibration control and decoupling from both the tonearm and the chassis, the later using height adjustable, isolating Alu/TPE sandwich feet. The motor is powered through a sophisticated DC/AC generator with electronic speed control.
The X1 features an 8.6-inch, super-stiff, perfectly damped Carbon/Alu sandwich construction tonearm, with an integrated headshell, a new anti-resonant counterweight with TPE damper to reduce cartridge- tonearm resonances and an aluminum base with azimuth and VTA adjustments. A premium Ortofon made, tuned by Pro-Ject, Pick-IT S2 MM cartridge is included, as an option. To connect the turntable to the phono preamplifier a Connect it E cable is used. This is a semi-balanced, low-capacitance cable, with superior shielding and is purpose-designed for this exact application, the company says.
The X1's luxury, 8 layers of painting and hand-polished finish are 3-4 times more expensive than simple foils. The turntable is available in 3 finishes; a premium walnut wood veneer and a luxurious black or white eight-layer gloss paint. Price is about €800,- (MSRP, including VAT).
For more information: https://www.project-audio.com/
---