Rega announced the new amplifier Aethos.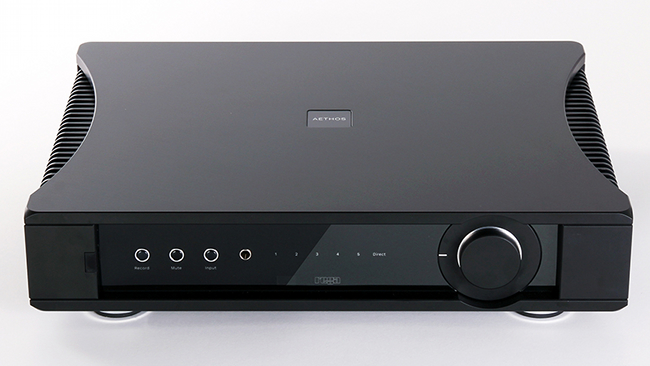 Source: Corporate Website, Last Accessed: 2019/11/01
The Aethos stereo amplifier is housed in a brand new custom designed case and features four 160 W 16A output transistors per channel, to deliver 156 W per channel into 6 Ω. The Aethos is a dual mono design, using a custom wound toroidal transformer and regulated supplies for the sensitive amplification and driver stages. The preamplifier stage uses class-A discrete circuitry throughout and the headphone socket has been integrated such that the speaker switching is performed by the output mute relay as so not to obstruct the signal path and degrade the sound quality.
Rega has taken the design concepts underpinning the multi award winning and hugely successful Elex-R and Elicit-R and propelled the performance to the next level and beyond with features such as fully discrete FET based line amplifier, polypropylene capacitors throughout the signal path, K-Power reservoir capacitors, power amplifier regulated supply and a high current output stage, comprising of four Sanken output transistors per channel.
The Aethos uses a high performance combined feedback and passive volume control plus line amplifier, which was originally developed for the Elex-R. Improvements have been made to the volume control and line amplifier stages in the Aethos with the use of discrete FET input operational amplifiers using the Linear Systems LSK389 FET and the well-respected RK27 "Blue Velvet" potentiometer. The feedback and input levels are varied to set the required volume level. The level and tracking between the two channels is set by the close tolerance parts in the preamplifier circuit and less by the potentiometer itself. This method also reduces noise and input overload as the control will only use the required gain to amplify the signal.
The power stage in the Aethos is an improved higher power version of the power amplifier used in the Elicit-R and Elex-R. This is based around two complementary pairs of 160W Sanken Darlington output transistors. By combining a low impedance driver with the Sankens Darlingtons (with their embedded thermal bias network running at a lower standing current), a complementary emitter follower, emulating Class-A conditions is formed, with good thermal stability and lower quiescent current in the driver stage, the company says. Due to the nature of the Rega power amplifier circuit , it is possible to run two complete output stages in parallel, including the output transistors, bias network and pre-driver transistors, instead of paralleling just the output transistors as in a standard design.
Connectivity includes five line inputs, a recording loop and a direct input as well as a preamp output.
For more information: http://www.rega.co.uk/
---