Fidelice line brings the classic Rupert Neve's studio sound to your home.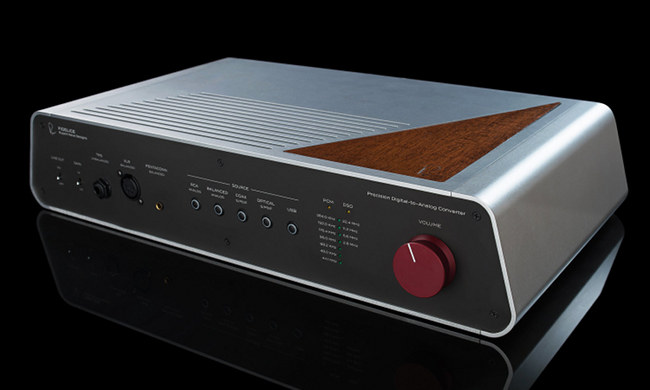 Source: Corporate website, Last Accessed: 2019/08/28
Chances are, most of your favorite albums from the last fifty years were recorded, mixed or mastered with Rupert Neve's legendary studio gear. Now, with the new Fidelice line of playback equipment, the classic sound of Rupert Neve's designs is available to bring true studio-quality audio to your home. Fidelice comprises of three devices, a headphone amplifier, a phono preamplifier and a d/a converter, all of them sharing the name "Precision".
Based on the headphone output circuit in Rupert Neve Designs' acclaimed 5060 Centerpiece Desktop Mixer, the Precision Headphone Amplifier is a dedicated 24V reference-quality headphone amplifier with specifically-calibrated inputs, housed in a beautiful aluminum and mahogany chassis. In addition to being able to drive a massive variety of headphones without sacrificing performance, as the company says, the Precision Headphone Amplifier is also capable of receiving a wide array of signals with its three inputs: +4dBu balanced line, unbalanced RCA, and 3.5mm TRS, each perfectly calibrated for optimum level and impedance.
The phono preamplifier features low-noise discrete Class-A amplifier stages with both JFETs and BJTs, a passive RIAA filter with very low tolerance components, selectable capacitance for the MM input, and a selectable 18dB/octave Rumble Filter with a corner frequency at 11.4Hz. The RIAA curve is matched to better than 0.15dB, and frequency response from 20Hz to 20kHz is better than ±0.1dB the company says. The specs include a dynamic range of 101.58dB (MM path), and an exceptionally low EIN figure (Equivalent Input Noise, a measurement more frequently used in microphone preamps), at -129dBV (MC path). The MM setting provides an input impedance of 47kOhms, selectable capacitance at 110pF or 220pF, and 40dB of gain. The MC setting provides an input impedance of 100 Ohms, capacitance of 220pF, and gain of 60dB.
The Precision DAC is built around pure Class-A topologies in the analog stages, with transformer balanced XLR outputs similar to those found in Rupert Neve's classic studio designs. The device can stream DSD512 (22.4 MHz) and 32-bit/384 kHz PCM files. The converter features high accuracy clocking, top-of-the-line AKM converter chips and, also, offers digital filter sets to further adapt the sound for any system. The included headphone amp elevates the award-winning RNHP design with the inclusion of XLR balanced and Pentaconn balanced connections in addition to the standard 1/4-inch TRS unbalanced output and features a high gain switch to drive the most difficult headphones.
For more information: https://fidelice.com/
---