Sony PS-LX310BT: Recreate the classic vinyl sound experience but wirelessly.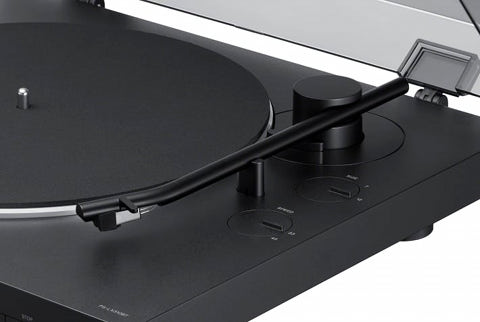 Source: Press Release, Last Accessed: 2019/01/08
Whether you are revisiting your old records or building up your collection with new releases, transport your vinyl experience into the present day with the new Sony PS-LX310BT turntable, a device that fuses the much-loved vinyl sound quality with the convenience and flexibility of connecting to a wired or wireless device.
The LX310BT brings the warm sound of vinyl to any wireless speaker, soundbar o headphones with the addition of a Bluetooth transmitter. Pairing couldn't be easier with the use of the dedicated Bluetooth button, and thanks to the full auto play function, music is instantly played from the last paired device when you press play. This ensures a simple user experience so that anyone can enjoy vinyl. Additionally, for those preferring a wired connection, the turntable also has an audio cable.
The LX310BT offers three different gain settings (low, mid and high) to ensure wide compatibility when using different playback systems and Bluetooth connections for volume adjustment. There is also a built-in phono preamplifier, which can be selected for use with amplifiers offering only line level connection.
According to the press release, the turntable boasts an aluminum die cast platter for superb sound balance and a newly-designed tone arm for sound stability. A thick and sturdy dust cover to resist resonance is, also, included.
The LX310BT has a stylish and premium look and feel, thanks to a carefully-designed texture and quality build, the company says. There are also direct buttons on the body for intuitive operation, including the direct Bluetooth button, allowing the user to easily start, stop and pair his device.
The PS-LX310BT model will be available from April 2019.
For more information: http://www.sony.net/
---