PA 1100 E: T+A's DAC-equiped integrated amplifier includes Bluetooth aptX and an HDMI option.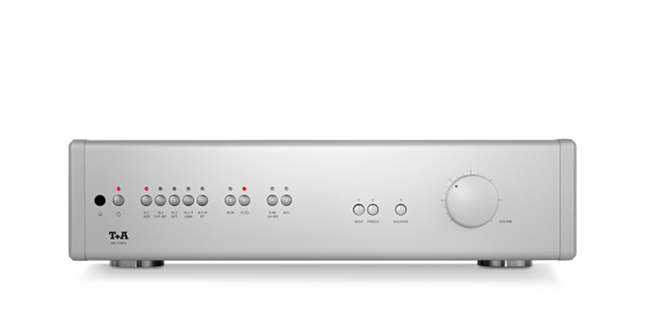 Source: Corporate website, Last Accessed: 2019/11/04
Based on the PA 1000 E model, the PA1100 E differs only in its input configuration, offering a digital board with a complete set of inputs, ranging from the standard S/PDIF, USB and HDMI ports up to Bluetooth wireless streaming.
Apart from the digital board, the PA 1100 E is identical to the PA 1000 E, and for this reason it shares the same acoustic performance and characteristics, the company says. These include a power stage that yields up to 2x140/250W in 8/4 Ohm loads with peaks up to 2x220/400W and a preamplifier stage with a 300kHz bandwidth and 6 analog inputs, 5 single ended (RCA) and one balanced (XLR). One of the PA 1000 E's balanced inputs has been replaced by the digital input board which operates completely autonomously from the rest of the machine, and uses separate voltages to power its digital and analogue sections. The board is fitted with its own micro-processor which assumes full control of the digital inputs, filters and converter. For this reason it has no influence of any kind on the analogue signal processing and sound qualities of the PA 1100 E. The high-quality Bluetooth module provides music transfer from mobile devices at aptX quality.
The digital input board enables many digital sources to be connected directly, using either coax or optical inputs, while he USB-B input makes it possible to stream very high-resolution files from a PC or via Ethernet/USB bridges such as Roon or NAA, using data rates of up to 384 kSps for PCM and up to DSD256. The Bluetooth player can be controlled using the AVRCP protocol. A further option is the additional installation of an HDMI circuit board featuring two input and one output sockets with Audio Return channel for the television set. Sound output is exclusively in stereo. The digital data are converted into analogue signals by a 32-bit converter and the PCM data can be oversampled by two different algorithms, a standard FIR filter and a Bezier oversampling developed by T+A.
For more information: https://www.ta-hifi.de/
---