Teufel x Rosenthal - Where the wireless loudspeaker meets the fine porcelain.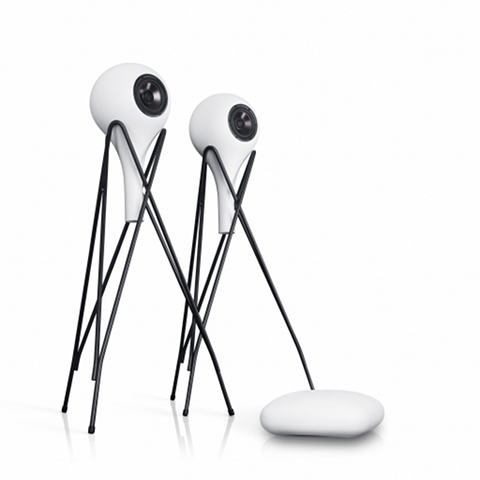 Source: Press Release, Last Accessed: 2019/02/05
Teufel in cooperation with Rosenthal, the world-famous German manufacturer of porcelain goods, recently announced a new wireless loudspeaker system, consisting of two porcelain loudspeakers, the amplifier in a porcelain casing and the necessary connecting cables, in a limited, 500 sets edition.
"Porcelain is a versatile and widely usable material which, thanks to its silky matte surfaces and high material density, combines maximum aesthetics with perfect sound," claims Robert Suk, Head of Creative Centre at Rosenthal. "Thanks to our cooperation with Rosenthal, we have succeeded in developing a loudspeaker that is unique in every respect and meets the highest sound and design standards," adds Sascha Mallah, Managing Director of Teufel Audio. According to the press release, the design of the loudspeaker casing has acoustic characteristics from the round shape, which reduces distortion.
The set consists of two porcelain loudspeakers and an amplifier unit also made of white porcelain with an output of 160 watts. Operation is via the Teufel app or via the touch-sensitive keys on the porcelain amplifier. The loudspeakers are connected to the central unit via two fabric-covered cables, each is three meters long. The loudspeakers feature coaxial drivers and the system is compatible with all Teufel and Raumfeld multi-room streaming speakers. Music is transmitted wirelessly to the system via Bluetooth or Spotify Connect via the Teufel app with the integrated streaming services Tidal, Napster, SoundCloud and TuneIn. In addition, there is a line-in input to which any audio source can be connected.
The drop-shaped loudspeaker with integrated bass reflex tube is cast by hand and in one piece from a special hard porcelain casting compound by Rosenthal in Germany, including the opening for the driver and the seven fitting holes for attaching the frame.
Teufel x Rosenthal is limited to 500 sets and is now available through the Teufel e-shop, in all Teufel stores and at selected Rosenthal dealers, at a price of €3,990 Euro (RRP).
For more information: http://www.teufelaudio.com/
---