Thorens to show a high-end tape machine in this year's HighEnd Show in Munich.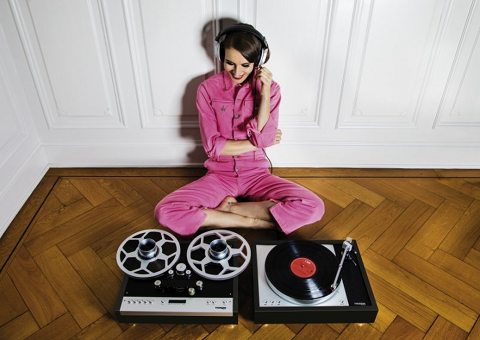 Source: Press Release, Last Accessed: 2019/04/09
You may have already noticed that, these days, not only the vinyl records are experiencing a strong revival but, also, the long forgotten magnetic technology, based on quarter-inch tapes, is rising like a phoenix from its ashes. Thorens opens a new chapter in history of high quality analogue reproduction with the presentation of their new open-reel tape machine TM 1600.
In cooperation with Duesseldorf-based tape machine manufacturer Ballfinger, Thorens meets the rising demand for master tape copies (distributed by companies like STS-Analog, Analogy Records, Zavalinka Records or Analogify) with a brand new tape machine. Base for the TM 1600 is the newly developed very compact tape drive from Ballfinger. Within its 50 mm height it gives freedom of design that has not been seen before. It contains direct drive motors with tension controls for the reels and to keep the whole drive as compact as possible, the tape path geometry was totally re-designed, so the sensors are not located below the reels, as normally, but between them above the heads.
The machine features by three motors. The reel motors are electronically controlled and use rotor angle detection by Hall sensor feedback. The capstan is belt-driven by an iron-less bell-shaped rotor motor from a German manufacturer. Although very compact, these motors supply an enormous torque with very small torque variation and are very silent running, therefore the playback head and the capstan motor could be placed far from each other to generate a very high signal to noise ratio, the company says. Additionally the main power supply is external which reduces noise level even more and so extensive measures for magnetic shielding of the heads could be avoided.
Thorens TM 1600 handles reels up to 10.5-inch in diameter, in 19 and 38 cm/s (7.5 and 15ips). CCIR equalization for most European recordings and NAB for Americas and Asia can be selected. The tape machine comes with real time counter with hours/minutes/seconds/hundredth seconds and as common with professional studio machines there is an edit function with pre-listening for single hand operation.
The new Thorens TM 1600 comes in a plinth very similar to that of new TD 1600 series record players in black high gloss or walnut high gloss. It's designed as playback device for half track quarter inch tape, so there are no erase/recording heads and related electronics. The TM 1600 has been designed for horizontal operation but it's prepared for wall mounting, too. Plinth and dust cover are the same as on the new record players TD1600/1601.
With launch of TM 1600 in summer 2020, the tape machine will be presented on German HighEnd 2019 show in Munich. Later, 100 pieces will be manufactured as special edition and will be individually numbered. Price will be €11.999,00 (RRP).
For more information: https://www.thorens.com/
---