Torus introduced the new Power PB 5 isolation transformer.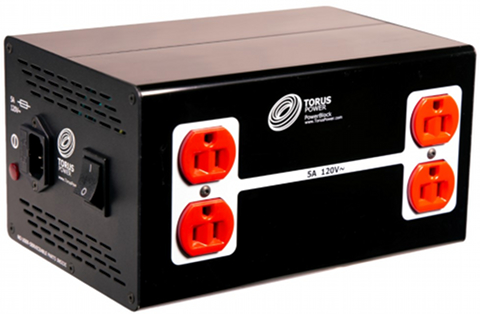 Source: Press Release, Last Accessed: 04/03/2019
Torus recently announced that the first member of our their PowerBlock family is ready for shipment. The Torus Power PB 5 is a North America Series, 5-amp Torus Power toroidal isolation transformer with a compact footprint and rugged construction.
The PowerBlock PB 5 was designed for use in compact systems and to power source components, TVs and projectors. It's ideal for situations where you want to isolate digital components from analog equipment or segregate switching power supplies from linear power supplies, the company says.
The PowerBlock PB 5 is an ultra-compact and portable toroidal isolation power transformer and the most affordable product in the Torus Power lineup at only US $799.00 retail. The PB 5's compact footprint and rugged construction make it convenient for use in almost any situation, the company says. It looks sharp on or near a component shelf, on any floor surface or it can be located elsewhere when space is at a premium.
The new isolator offers two duplex power outlets (NEMA 5-15R), with a 10A IEC-type inlet and it will shutdown if the internal unit temperature reaches excessive levels.
The device is already in stock and ready to ship. Note that this is a North America Series product, suitable for 120V/60Hz power grids, but the company also offers products for other regions, including Continental Europe, the UK and Australia. Torus announced that a bigger PowerBlock is on the way, the PB10, a 10A, four duplex outlets design.
For more information: https://www.toruspower.com/
---