Allegri Reference: Townshend's new passive preamplifier.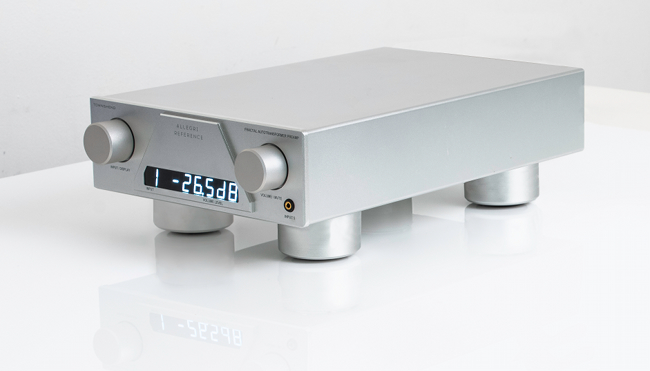 Source: Corporate website, Last Accessed: 2019/11/04
The Allegri Reference is a microprocessor-controlled, passive, autotransformer volume control preamplifier, ideally suited for both the Hi-Fi enthusiast and the professional user. It is wired throughout with Townshend's proprietary Fractal cable and features a full remote control, an LED display and the latest Seismic Isolation.
An autotransformer is an electrical transformer with only one winding. In such a device, portions of the same winding act as both the primary winding and secondary winding sides of the transformer, in contrast with an ordinary transformer where there are separate primary and secondary windings which are not connected to each other. The autotransformer configuration is employed for the Allegri Reference, (as in the Allegri+) because it has been shown to give by far the better sonic result, when compared with conventional transformers. It, also, allows for a smaller core size. It has lower leakage inductance, which gives a far better transient performance and flatter frequency response. The autotransformer, is also much better than a resistive passive volume control, due to its very high input impedance and low output impedance, the company says. There are 129 individual 0.5dB steps, which give very fine volume adjustment at all listening levels. This incredibly wide range can accommodate very high source levels and very high sensitivity power amplifiers enabling refined volume control at very low levels (ideal for late-night listening). The winding of each transformer comprises a single, unbroken, 260m (845 feet) length of 0.1mm (42SWG) Fractal wire, looped out 48 times around 48 pins, which are connected directly to the reed-relay pins. A short run of Fractal wire connects each of the signal in, signal out and ground, between the input/output connector board and each transformer, relay board. The laminations are 50 % NiFe mu-metal metal, which gives the best bass performance and lowest overall distortion (less than 0.01%). The signal path is as simple as possible, with just four of the 96 ultra-reliable reed relays in the signal path, at any time.
The preamplifier has five stereo single ended inputs and two pairs of balanced XLRs, in parallel with inputs 1 and 2. There is a 3.5mm jack socket, on the front panel, in parallel with input five. For output, it has two sets of stereo single ended and one pair of balanced XLRs.
For more information: http://www.townshendaudio.com/
---