Verity Audio's new Lakme loudspeaker.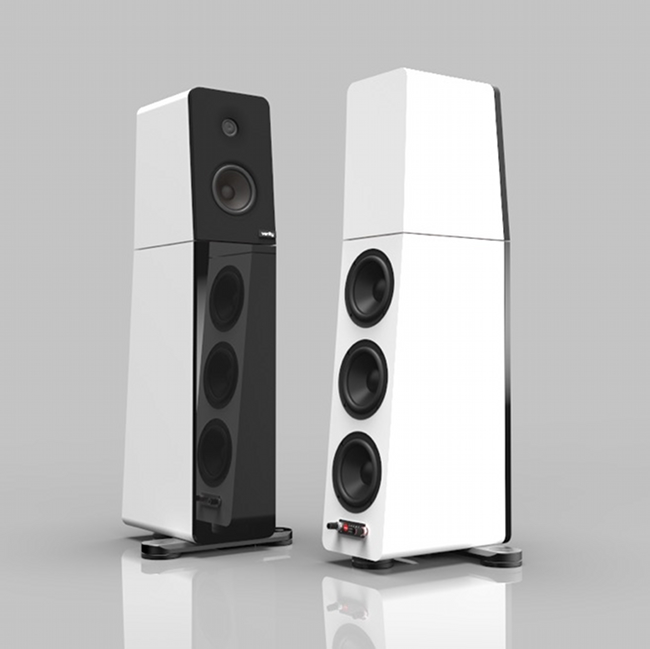 Source: Corporate website, Last Accessed: 2019/05/12
Verity Audio premiered the new Lakme loudspeaker during the Munich High End show last May. It is a new and innovative addition to their high quality line that comes with an inherited and unique floor isolation system, inspired from the company's MASIS technology (Mechanical & Airborne Sound Isolation System). The loudspeaker features an easy and flexible tripod system facilitating loudspeaker leveling. The three adjustable feet are floor-protective, making it easy to move around the loudspeaker without a scratch.
The Lakme finds its place between the world acclaimed Verity Finn and Otello models. It offers unique features making it room-acoustic friendly for a wide spectrum of configurations and room placement possibilities. Verity Audio says that they opted for a dual-passive radiator topology for easy room placement, excellent dynamic range and air velocity giving an amazing performance in small to average dimensioned listening room.
According to the details published, Lakme's driver complement includes Verity's unique soft ring-dome tweeter "for an extended resonance-free high frequency reproduction", a custom-made midrange driver offering "a break-up free natural midrange" and a combination of custom-made woofer and dual passive radiators "for fast and precise bass".
The Lakme comes either with a black or white satin lacquer, completed with a high-gloss black or white woofer front panel giving it a luxury look.
For more information: http://verityaudio.com/
---